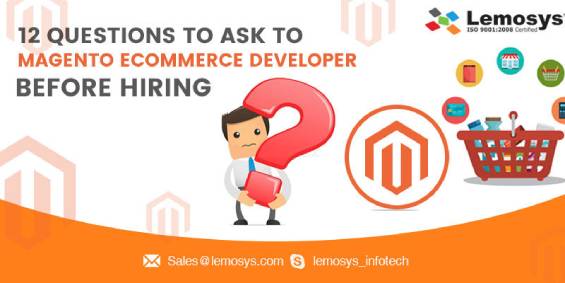 What Questions You Should Ask When Hiring Magento Ecommerce Developer?
What Questions You Should Ask When Hiring Magento Ecommerce Developer?
https://www.lemosys.com/blog/wp-content/uploads/2018/08/Hire-Magento-Ecommerce-Developer-1-1.jpg
565
283
Blog
Blog
https://www.lemosys.com/blog/wp-content/uploads/2018/08/Hire-Magento-Ecommerce-Developer-1-1.jpg
[responsivevoice_button rate="0.9″ pitch="1.2″ volume="0.8″ voice="US English Male" buttontext="Listen to this article now"]
Developing a Magento e-commerce-based online store is complex apart from having good experience and skills in development. Also, hiring a Magento eCommerce developer is a hard nut to crack. You have to be very cautious when hiring a Magento eCommerce developer for developing an online store.
There are certain questions that you should ask every Magento eCommerce developer, before their hire for your development work-
1. How Much Experience do you have in Magento Development?
Knowing about the experience of a Magento eCommerce developer, you can raise the bar of your expectations. You can also get innovative ideas for the development of a unique e-store.
2. Can You Show your Work Portfolio Based on Magento?
The best way is to ask about the live projects and the previous work he/she has completed successfully. With this, you can assess the designer as well as develop knowledge of a Magento eCommerce developer.
3. What Methodology Do You use for Magento Development?
Some projects are quite complex as per the business needs, this demands the right methodology and tools to use for Magento development. This assists you to demonstrate and progress of the project.
4. What Is Your Approach to Quality Work?
Every Magento eCommerce development project has some milestones to work on the demands of customers and attract them online towards business. It is essential to determine the approach and manner a developer follows for quality work.
5. Which Mechanism do you use for Effective Communication?
By asking about a way to communicate, you can achieve an exact development goal. Communication assists in different work from project meetings to completing the delivery of work according to expectations. It will keep you in constant touch with a developer.
Read here… What Things to Look While Hiring A Magento Developer?
6. How Much Time Will be Needed to Deliver eCommerce Project?
Strict deadlines are always associated with Magento development. A trusted and professional Magento developer always works on deadlines and completes the project within the assured time frame.
7. Would you provide Daily Reports with the Tasks Mentioned?
This question is a must to ask about daily work and reporting. Because it can assure you for the work completed every day and this will also be helpful for the developer to update the work if needed.
8. What guarantee you can offer for the Secure and Unique Development Process?
One of the very important concerns is the uniqueness and security of Magento development. You should never hesitate to ask for the assurance of these two aspects of development.
9. Will you give Any Maintenance Service Post Launching?
It is 100% sure that you will need some maintenance and update services once you complete the launching of your online store. So, don't forget to ask for the maintenance services post-development of an e-commerce shop.
10. Have you completed Magento Certification?
This question will help you to know about the skills and experience, a Magento developer has. Because certification is an important factor to show extra skills and core developers in the same field as compared to ordinary developers in the market. So, Always try to hire well certified Magento developer.
11. What charges are Applications for Small and Big Magento Development Project?
There are a few developers who charge an hourly basis or fixed price for project completion. In some situations, additional fees are also applicable to completing the project.
12. Is there Any Relevant Customer Experience Available?
In addition, you can also ask for the relevant customer experience. With this option, you can directly contact their previous clients and ask about their experience with the particular developer. This can increase your trust in a developer.
All these questions you should ask a Magento developer. , it is crucial to hire the right developer who can deliver the desired results for your business.
If you are looking for a certified Magento developer in India, then you can consult with the developer's team of Lemosys Infotech. Lemosys Infotech is a Magento Development Company in India that strives for high-quality work within the deadline. Since 2007, the company has been working to maintain an online reputation and satisfy the client's needs. They also have good online reviews and ratings on the website.