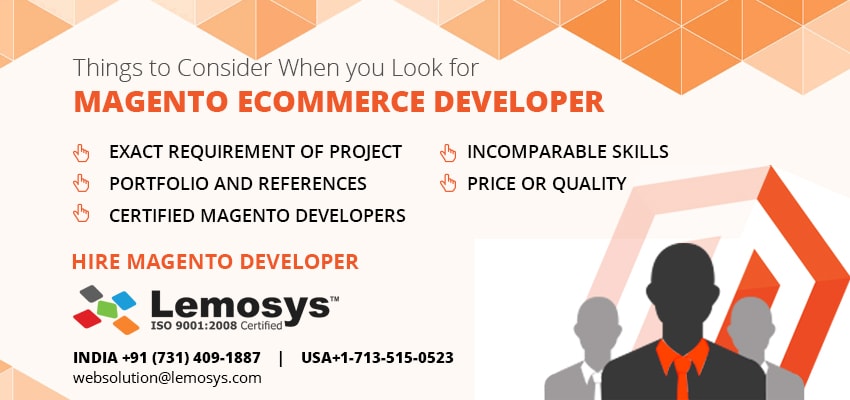 What Things to Look While Hiring A Magento Developer?
What Things to Look While Hiring A Magento Developer?
https://www.lemosys.com/blog/wp-content/uploads/2018/02/Hire-Megento-developers.jpg
850
400
Blog
Blog
https://www.lemosys.com/blog/wp-content/uploads/2018/02/Hire-Megento-developers.jpg
[responsivevoice_button rate="0.9″ pitch="1.2″ volume="0.8″ voice="US English Male" buttontext="Listen to this article now"]
The trend of e-commerce websites has been introduced in the past few years. Now, a good number of domestic as well as traditional marketing businesses are turning online. It is due to the credibility and facility offered by an online store in terms of product buying and selling as per the consumer's requirements. Do you know that all these consumer needs can easily and rapidly be fulfilled through an e-commerce platform for developing a distinctive online store?
For the best e-commerce development, there are various open-source platforms available including Shopify, Magento, and Big Commerce too. When it comes to features and functionality, it is the best preference to rely on Magento. Here, it raises the demand for an experienced Magento developer to complete a web development work with the quality for your dream project.
Do remember that there are specific things that you should focus on for hiring a Magento developer for Magento e-commerce development. Give your impression on a few 5 most important things that are mentioned in the below points if you don't want to do any mistakes while hiring a good Magento developer-
Exact Requirements For An Online Business-
This is your first step to preparing a whole plan of online business development. You need to understand what functionalities and advanced features you want in your e-store to be developed in Magento.  Also, you must have a budget plan and time limit for effective web development in Magento platforms.
Decide The Scope Of Project-
Depending on the scope of your project, you should hire Magento developers. You have two options for hiring these developers either you can hire freelancers or you can prefer an emergent web development company for your work. It is highly recommended to prefer a web development company for improved quality work on time and at low hourly rates. You are also allowed to ask a company for their portfolio of the projects that are previously done by them to build trust in it.
Try To Find Certified Magento Developers-
The certified Magento developers are the experts in Magento and are already validated by the Magento Corporation. However, a certified Magento developer is not mandatory, but it can assist you to develop your trust and maintain fruitful terms with the clients for building an e-shop for representing your business and its product offerings online. In addition, these developers have enough potential to render a top-class e-store for your ever-flourishing business.
Check Incomparable Skills Of Magento Developers-
Unless and until you don't check the skills of Magento developers, you won't be able to hire the one that can deliver the work according to your expectations. You can determine a few skills including innovation, communication skills, and availability of time for the completion of projects. This will only separate the Magento developer that you hire from others.
Seek Project Quality Rather Than Rates-
Almost every business sticks to the rates when they hire a Magento developer and designer. But, you should not. You should hire the expert Magento developer who although charges a high amount for the work but will deliver the quality work that you need to attract more and more customers.
Hire Magento developer and designer with Lemosys Infotech seems to be one of the favorable decisions for your online business development. All the Magento developers are dedicated and certified to the web development work and complete the work following up-to-the-minute aspects of the Magento platform. Our Magento team is accomplished with paramount expertise in every horizon of the online shop of your small or big business. Moreover, our company charges cost-effective rates for unique Magento development.