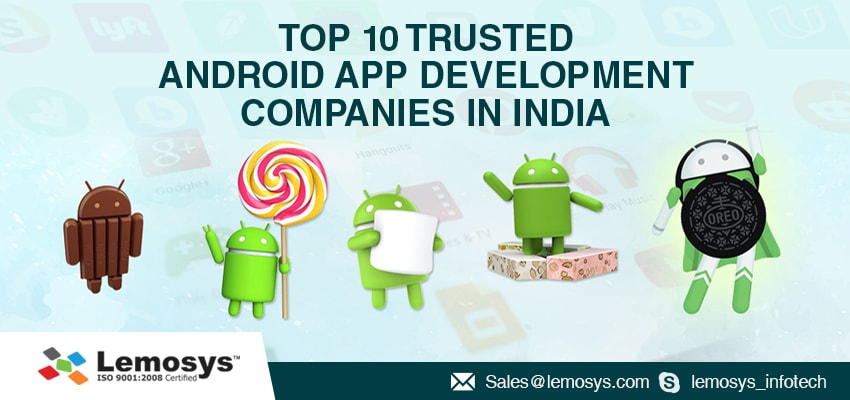 Top 10 Reputed Android Mobile Application Development Companies in India
Top 10 Reputed Android Mobile Application Development Companies in India
https://www.lemosys.com/blog/wp-content/uploads/2018/08/android-app-development-company.jpg
850
400
Blog
Blog
https://www.lemosys.com/blog/wp-content/uploads/2018/08/android-app-development-company.jpg
Mobile application development is vulnerable to new tactics and procedural enhancement every year. In 2021, mobile application development companies adopt changes according to the latest marketing trend. The solutions offered by these companies affect the growth of the project to cope up with.
Here are the list of top 10 trusted Android app development companies in India
1. MobileWays
Expert in end-to-end mobility services, Mobile Ways is a leading mobile app development company where art meets engineering. They have a mobile app development team to develop a mobile strategy and mobile app integration services.
Highly skilled in developing iOS and Android applications, Lemosys Infotech is a big name for offering mobile app development services at highly competitive pricing. The company has developed 80+ Android applications as per the client's requirements since 2007.
3. MindInventory
With 7+ years of experience, Mind Inventory is a mobile app development company offering bespoke mobile app solutions to customers. They are known for excellence and perfection in the market for the unique development of dynamic and interactive user-focused mobile applications.
4. FATbit Technologies
FATbit Technologies is a reputed custom mobile app development company that specializes in providing advanced mobile app development services to its clients across the globe. Founded in 2004, the company owns a team of 150+ IT professionals who have successfully developed 5000+ web and mobile app development projects for various industries like eCommerce, education, fitness, healthcare, sports, media & entertainment, etc. The company has been recognized by various research and review agencies in the last couple of years. As a prominent leader in the IT industry, FATbit Technologies has also been featured in Fox 40, Business Insider, Entrepreneur, HuffPost, etc.
5. SparxIT Solutions
Incepted in 2007, SparxIT Solutions is a mobile application development company that has worked with 30+ top brands and satisfied 1000+ clients. With all advanced and professional resources, they work to bring the most satisfactory outcomes for online business.
6. Net Solutions
Founded in 2009, Net Solutions is a company whose focus is on blending design thinking with advanced technology learning. They work to build and scale many businesses from project analysis to complete development.  Their team of mobile app developers design and develop high-quality apps.
7. Hidden Brains
Hidden Brains make it possible to discover possibilities for offering mobile app development services since 2003. They have a strong team of professionals to do everything from enterprise applications to innovative customer-focused applications. They give suitable assistance to launch and develop custom mobile applications.
8. Hyperlink Infosystem
This company always works to turn your ideas into a reality. Over 5 years of experience, Hyperlink Infosystem works on every aspect to increase productivity and utilize resources. In addition to this, they make strategies to design and develop mobile applications that can drive traffic to your business.
9. 360Technosoft
With amazing skills to develop creative and customer-centric mobile applications, 360 Degree Technosoft is a mobile application development company that provides a user-friendly experience to businesses. Delivering 150+ mobile applications till now, this is a reputed firm working for extensive data collaboration and smart app development for the client base.
10. Cumulations Technologies
Cumulations Technologies is a team of professionals that works to co-create mobile applications. Established in 2012, the company acquires great proficiency in successful development. They are one of the experts in building Android, iPhone/iOS applications with the help of advanced technology updates.
On the whole, all these custom mobile application development companies are the best selections to get Android mobile app development services. Choose any one of the companies according to your project requirements. It is suggested to prefer Lemosys Infotech for innovative and high-end mobile applications.