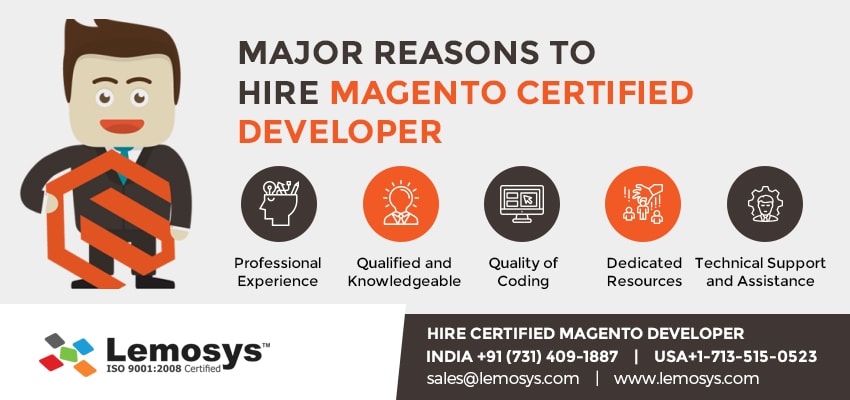 Why You Need to Hire Magento Certified Developer form India?
Why You Need to Hire Magento Certified Developer form India?
https://www.lemosys.com/blog/wp-content/uploads/2018/06/Reasons-to-Hire-Magento-Certified-Developer.jpg
850
400
Blog
Blog
https://www.lemosys.com/blog/wp-content/uploads/2018/06/Reasons-to-Hire-Magento-Certified-Developer.jpg
With a Magento certified developer, a business can be assured of the professional experience that comes from certification. The Magento certified developers can deal with the alternative requirements of business and provide the best development solutions for different phases of e-commerce development or Magento websites
These are a few reasons that you avail as you hire a certified Magento developer

1. Professional Experience-
Professionally experienced Magento developers can leverage the custom-centric features as per the requirement. Such developers can work on the most sophisticated tools to incorporate user-friendly features.
2. Qualified and Knowledgeable-
Magento developers who are qualified and quite knowledgeable have the ability to scan the rival players that are your business competitors. Their knowledge of technical and business terms can assist clients to be an owner of a better e-commerce store.
3. High Quality of Coding-
For developing high-quality online shopping websites, hire developers who can work on the highest quality of coding. Almost every certified developer of Magento follows strict coding guidelines and standards.
4. Dedicated and Expert Resources-
One of the most imperative reasons to develop an e-store with the help of expert Magento developers is that they know the latest tools and technologies to make effective utilization of resources. In addition, these Magento developers work on the development project delivering great outcomes.
5. Easily Trusted-
Taking into account that Magento certification is a great pact to complete and if there is one qualified and certified Magento developer in the team, there are more chances for a company to develop a website with no difficulty and proficiency.
6. On-time Delivery-
When you hire certified Magento developers in India, you will be benefited from one thing delivering quality work within the assured deadline. They focus on the strategies to execute the work on time unless and until an exception arrives during the project work.
7. Removal of Risks in Development-
By hiring dedicated Magento developers for a business, one can minimize the risks in the development process. They can analyze the business requirements fully and implement the best practices for feasible solutions to any web development project.
8. Technical Support and Assistance-
The best part of hiring a Magento-certified developer in India is that they never wash their hands after completing the project. These developers offer round-the-clock technical support services to resolve clients' issues.
So, if you want to design and develop the best look and feel e-commerce store in Magento, hire certified Magento developers with us. We are the number one e-commerce website development company in India that has a skilled team of web developers and designers for top-quality work.
Lemosys Infotech is a Magento development company in such a way that it can fulfill all the client's demands and business requirements. The company has 300+ satisfied clients across the globe and 550+ developed projects productively.