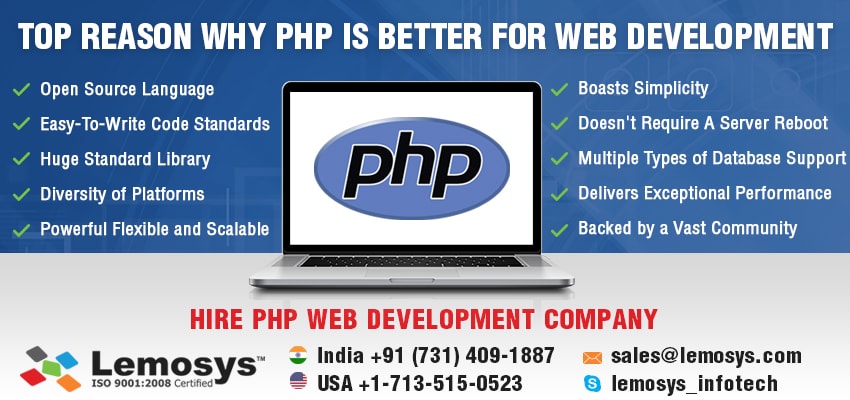 Why PHP Is Most Preferred Platform For Website Development?
Why PHP Is Most Preferred Platform For Website Development?
https://www.lemosys.com/blog/wp-content/uploads/2018/06/PHP-Best-Website-Development-Platform.jpg
850
400
Blog
Blog
https://www.lemosys.com/blog/wp-content/uploads/2018/06/PHP-Best-Website-Development-Platform.jpg
PHP is the server-side scripting language to create websites that have a plethora of reasons to be used for website development. When it requires dynamic and interactive website development, PHP is the language that might first strike a dedicated website developer.
Here top 17 reasons to opt for PHP website development services.

PHP is Hypertext Preprocessor, which is an open-source language. It is free to use. It is a cost-effective method to develop online websites.
PHP works well with the top content management system such as Laravel, Drupal, Joomla, WordPress, etc, and makes the website per the unique business requirement.
It has easy-to-write code standards that boast coding simplicity for custom web development.
This language has the capability to accept the diversity in platforms. It gives benefits to developers for seamless integration of websites across different platforms.
The biggest advantage of using PHP for developing a website is that it doesn't require a server reboot to update a website code.
It is a powerful, yet flexible language to get customized website development services that meet the expectations of a particular business.
It is cross-platform that enables web operations on the different operating systems including, but not limited to Linux, UNIX as well as Windows platforms.
It has a huge online community for PHP developers and PHP users. Also, it remains updated with its versions with the current demands of robust programming.
The feature of embedding into HTML makes PHP language much more interesting for development. This assists in converting a static website into a dynamic one.
3S's- Stability, Speed, and Security are the crest qualities in PHP that attract business owners to build a business website.
The language gives a good number of extensions and completely synchronized output of a website.
PHP supports multiple types of databases such as MySQL, Oracle, PostgreSQL, and Sybase, and even, runs effectively with MS-SQL.
The hosting services have a PHP setup that is ready to use and pre-configured, the PHP developers need not work for configuration.
It has ultimate data processing ability due to the vast standard library of the language. With the help of the library, PHP provides extensive support for URL parsing, HTTP fetching, regular expressions and also, and database drivers.
This is a type of programming language that allows access to web-based tools like Google Maps for a business website.
With PHP, it is less complicated to work on programming parameters that are related to services like metadata, DNS, etc.
Apart from these, PHP trims down the hindrance to a doorway for new website developers, providing these developers influence with their technical knowledge and ability for fresh coding.
These points are good enough to describe the importance of PHP for any PHP-based website development project. A business owner should develop a website with simple and fast execution in PHP to get advantages.
So, if you want to hire a distinguished company for PHP development at low hourly rates, then hire us. We are a high-rated PHP development company in India that has completed 500+ PHP-based projects and has made 200+ clients across the globe.