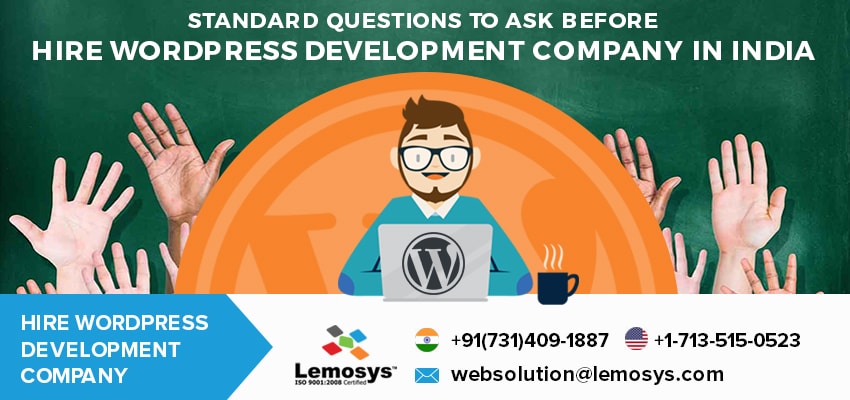 What Questions You Should Ask When Hire WordPress Development Company In India?
What Questions You Should Ask When Hire WordPress Development Company In India?
https://www.lemosys.com/blog/wp-content/uploads/2018/05/Ask-question-to-wordpress-development-company.jpg
850
400
Blog
Blog
https://www.lemosys.com/blog/wp-content/uploads/2018/05/Ask-question-to-wordpress-development-company.jpg
WordPress development in India can be found to be useless if the used resources and provided support by the WordPress website is not compatible with the business requirements. A business should be careful to taking the decision of hiring any WordPress development company in India.
The Most Important Questions to Ask Before Hiring Any WordPress Development Company in India–

1. How many years of experience a company has, in WordPress development?
Experience is very important to get a quality outcome. If it is unique WordPress development, then the WordPress development company should have 5+ years of experience.
2. What technologies do you work on for an effective development process?
For an effective WordPress development process, a good company works on the latest and updated version of the PHP language. This eases the programming and coding work needed to make a fully functional website.
3. How many numbers of WordPress-based projects are completed?
Hire a company that has developed a minimum of 400 or 500 websites in the WordPress content management system. The company that has developed this number of websites knows well how to make the website interactive and usable to get customers.
4. Can you show your portfolio of the developed projects in WordPress?
The remarkable WordPress development companies always have a portfolio of work to gain clients' trust. You can also ask for the links and examples of development work completed by a company.
5. Which type of theme and website design may use for development?
There are various companies that make use of ready-made themes and highly-customized web designing for top web development. The website developed using ready-made themes takes less time to develop as compared to custom web design.
6. What time do you need to complete the WordPress development project?
The time frame of the WordPress development project plays a major role to reach your business objectives. Rely on the company that agrees to develop a project within 3-4 months depending upon the requirements.
7. Is any communication facility available during the development procedure?
Different web development companies have different approaches to developing a project and communicating to clients in-between the development process. Today, most companies are using Skype for audio and video communication along with chatting.
8. Are you hiring a development company that has a great landing page website?
You can understand the real value of a website to attract more customers to your business. The best company has a website with eye-catching colors, audio, and visual graphics, and flawless and high-quality content.
9. How do you charge for WordPress development in India?
This is the most important question to ask any WordPress development company in India. Some companies charge on an hourly basis while some companies charge on a monthly or project basis. Choose the company that you can afford to pay for the work.
10. What about the ownership of a WordPress website?
Be ensured that the WordPress developer of a specific company should give all the login credentials of a website. Have the entire login credentials related to the domain control panel, server, and back-end server of a website.
11. Would the company know about website security?
WordPress development is considered to be secured development, but it can be affected by malicious code injection. So, hire a development company that follows all the security and safety norms of WordPress.
12. What about customer care support services?
You should choose a WordPress development company that can provide its clients with 24*7 customer care support. It assists clients to solve their queries as soon as possible.
Based on the above questions, you can hire WordPress developer in India with the growing WordPress development company, which offers excellent WordPress development services in India.