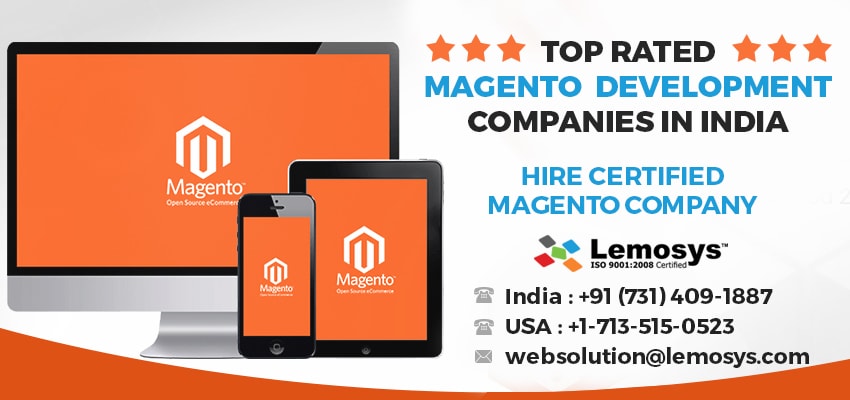 Which are the Top Magento Development Companies in India?
Which are the Top Magento Development Companies in India?
https://www.lemosys.com/blog/wp-content/uploads/2018/04/Magento-Development-Companies.jpg
850
400
Blog
Blog
https://www.lemosys.com/blog/wp-content/uploads/2018/04/Magento-Development-Companies.jpg
 Thought of developing a professional website in the best e-commerce platform and development framework? Feeling confused which platform or a framework to choose on to optimize your e-store and take to the peak level? Magento is one of the paramount open-source platforms for building a purposeful online store. As Magento can assist startups, medium-sized and big businesses to manage their business-oriented website in an epic manner, the Magento-based web development has become increasingly accepted and used all around India.
There are a lot of companies that work on Magento type of e-commerce platform and hence, design and develop unique Magento solution to fulfill the demands of a particular business. Let's have a glance of such Magento development companies from where you can get your online store developed from the best professionals in India.
       1. Lemosys Infotech–
Apart from all these places of India, Indore is also considered as the hub of IT services and there are a few companies offering Magento web development services at truly iconic rates. Founded in 2007, Lemosys Infotech is the best Magento development company in Indore offering the development services in Magento through expertise and certified Magento developers. Lemosys has completed 8 years and worked for more than 23000 hours for better development and designing. They have around 250-300 happy and satisfied client base. Furthermore, the company takes care of the quality and features of the website, and customer satisfaction is our first priority.
      2. Synamen –
Located at Nungambakkam, Chennai, India, Synamen offers the top-notch services of Magento web development with the help of experienced Magento developers. From the past 9 years, Synamen has worked with the prestigious clients and successfully completed 400+ projects on time. They help customers by providing excellent Magento based website with the help of Magento extensions. Besides, the company is highly focused on the usage of digital trends and the latest web technologies for the growing business.
AddWeb Solution has skilled Magento developers, located at Ahmedabad, India to develop Magento website with efficacy. The company has total 20K+ contribution hours and 96K+ development hours since its foundation year. Their team of more than 45 developers is not only innovative, but productive too for offering the Magento development services at pocket-friendly prices. No matter whether it is Magento plugin installation, payment gateway integration, and theme customization, their developers are well-versed in it.
New Vision Digital provides the customized Magento solutions to cater your needs and expectations at competitive pricing. In fact, they have a passionate Magento developer's team for unique web development and help you to stay one step ahead of your competitors
This is the best software development company in Kolkata, which is offering the Magento solutions to its clients. They have Magento developers who are good in doing customization of a website and enhance its features as per the customers need. In addition, they deliver and deploy the highest quality projects within the assured deadline.
Founded in 1999, Daffodil Software has served 30+ countries, 500+ professionals, 10+ industries, and completed 2000+ projects. Empower your business plans with robust app building using Magento framework. Daffodil is a number one Magento web development company having developers with an extensive experience in web development using high-end technologies and frameworks.
      7   Let's Webify–
Let's Webify is one of the growing Magento development company providing Magento programming services in Pune, Mumbai, India. Their development team has sound expertise in making online stores in Magento, developing Magento extensions and also, customizing Magento code. They deliver approximately 25-30 websites every month and satiate the needs of their happy clients.
Magneto IT Solutions is a well-known name in the industry. Being pioneer in Magento development, the company was established in the year 2009 to serve diverse industries and enterprise solutions. The company is located in Pune and Ahemdabad in India and efficiently driven by a team size of 50-200 developers, designers and IT experts.
Here, we have listed top Magento eCommerce development companies based on their popularity and work. If you are thinking to hire an eCommerce developer for your business & choose LEMOSYS INFOTECH one of the best company for eCommerce development share your requirement with thame at sales@lemosys.com.