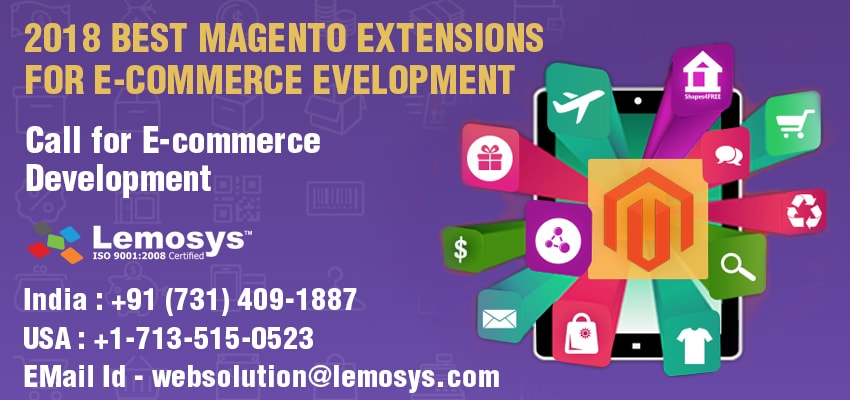 10 Must Have Magento Extensions for Better Ecommerce Experience in 2018
10 Must Have Magento Extensions for Better Ecommerce Experience in 2018
https://www.lemosys.com/blog/wp-content/uploads/2018/02/magento-extension.jpg
850
400
Blog
Blog
https://www.lemosys.com/blog/wp-content/uploads/2018/02/magento-extension.jpg
Today, Magento e-commerce development is on rise for making the online business impactful. The e-commerce store in Magento can be made functional and fully featured by using Magento extensions. The Magento extensions are useful in managing inventory to tracking sales to creating invoices and thus, prove to be a boon to enhance the production of your online business. When it comes to search for these Magento extensions to enhance the functionality of a Magento e-commerce, one can find a good number of them on the internet. In contrast, it is highly in demand to find the accurate extension in Magento for a leading online store to make it stand away from the market competitors.
Just to overcome the confusion or fulfill the demand, here is a brief list of 10 must have Magento extensions for better ecommerce experience in 2018.
Installing Daily Deal type of Magento extension is a right choice if you want to up sell your business products and services. This extension of Magento can easily make the sale-off programs powerful and effective. Using this extension, one can create and administer the products and its promotion with flexibility.
MageMob Cart is a Magento extension that is specifically used for mobile application, which means that it can be used for e-commerce store in order to develop a fully customized mobile application for Magento store. With MageMob Cart, a Magento developer can create all native mobile applications and render user-friendly experience on both the platforms Android and iOS.
If someone wants to have the payment gateway modules in his e-shop, then Mobile Shopping Cart is the best Magento extensions for ensuring completely secured online transactions. It is also known as Mobile App Builder. It provides customers and business with the added advantage of protection of personal financial details. One need not to mention about the particular type of debit and credit as this extension is supportable to all types of payment cards.
One of the best Magento extensions for an e-shop is Price Bargain. It motivates customers to shop for more products and also, negotiate for the price with the bargain options. This Magento extension is effectual and innovative tool used by Magento Developers so as to motivate the customers to procure more products at a time.
Nowadays, online buyers are in hurry and want to know the exact date of delivery of the products ordered by them. Most of the customers want delivery of the products online on the date that they have decided. So, installing a Magento extension Delivery Date Scheduler in e-shop, the online store administrator can provide their customers the right information of the delivery date of online shopping.
Another good Magento extension is Reward Point. It helps growing organizations to expand their target market and boost the overall production.  This is probably defined as the revenue driver extension that allows the customization of an online store as per the latest requirement in the market.
A store administrator can focus on various aspects of FedEx freight shipping from own website dashboard with the help of Fedex Smart Shipping Magento extension. Different functions can be performed including live shipping rates, manage shipment tracking and validate addresses, arrangement of consignment pick up and even, multiple delivery options too.
Ensure user-friendly experience to make a firm enriched with exceptional features in its e-commerce portal by utilizing the Product Review Magento extension. This increases the sale figures and tries at the best possible level to build the customer's trust on the industry. Furthermore, it gives users the facility of giving feedbacks, reviews and ratings of products.
Make the experience of web shopping amazing with FAQ Magento extension. It also aids in generating revenue in a different manner. By FAQ in Magento e-commerce development, a flourishing business can let its customers to find the most suitable answers to their queries related to a particular area of interest.
Lastly, the Out of Stock extension in Magento subscribes for stock notifications. It offers customers an option to subscribe for notifications by emails once the product again comes in stock.
Lemosys Infotech is a website development and web designing company that is placed in India and USA and we are offering expertise services of Magento development with the usage of Magento extensions. The company has a team of certified Magento developers for developing, designing and customization of e-commerce store according to your business needs.