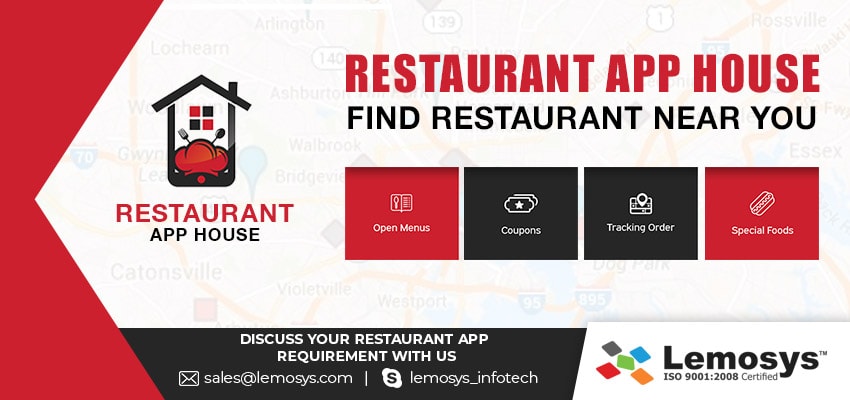 Why to Use Restaurant App House Android Based Application?
Why to Use Restaurant App House Android Based Application?
https://www.lemosys.com/blog/wp-content/uploads/2018/07/Restaurant-App-House-Find-Restaurant-Finder.jpg
850
400
Blog
Blog
https://www.lemosys.com/blog/wp-content/uploads/2018/07/Restaurant-App-House-Find-Restaurant-Finder.jpg
Restaurant App House is a unique Android app development that facilitates restaurant's owners to offer their food order online as wells as foodies to find a restaurant near to them. This restaurant app is a kind of mobile application running effectively on Android platform with version 4.1 or a level-up.
App Features- The market of Restaurant App House has attracted good number of food consumers since its last update on January 2018 till date. Some features of this restaurant application are stated as-
Restaurants such as Apna Sweets in Indore can provide the menu list of mouth-watering orders offered by it.  Customers can search for the availability of orders by opening the online menu of orders including list of starter dish, milkshake, dry fruit, main course and salads.
This Android restaurant app is featured with the option of tracking orders. It quickly allows users to manage the order status including shipments, time of delivery etc for easing the process of order management.
Introduced with another special food feature, it assists customer to know about the foods of the day. When a customer clicks on special food choice, he/she will get the list of dishes chiefly available for a day or on special discounts for a limited time.
Right from hot spots to the hidden gems of the restaurants and food industries, the restaurants comes with the discount offers provided on coupon. The coupons are instantly be added on specific dishes, which give major dips of profit to all food lovers.
Restaurant applications, running on Android are featured with the network-based GPRS technology to assist application user find the location of restaurant nearest to them. This application can be accessed to precise location.
Using the option of "Add to cart", people can add the food of their choice to the cart and process for further checkout there. After that user can do online payment for the processing of food order soon.
In addition, its emergence has revolutionized the food and dining industry to a great extent, and assists to increase the restaurant business online. Installing Restaurant App House provides users with many considerate and hidden perks.
Application Benefits- It is no unbelievable that this type of Android based restaurant application is beneficial for both foodies as well as the owners of restaurants. Below are specific benefits of installing "Restaurant App House" in your Android smartphone.
Once you install this Android application, you can easily find out the restaurants near to you. All you need is to access the application without going anywhere.
Save time to Order (Customers)
Orders can be managed from the movements of fingers on your Android smartphones. It will save your time to order the delicious food.
Save time to Order (Restaurant Owners)
From the point of restaurant owners, they can get more order online as compared to offline processing from a few years. With this app, getting more order is a good deal.
Well, it has been reported that the percentage of users rises to 45-60% this year who have already installed this Android mobile app from Google play store.
How to Install Restaurant App House?
If you want to get benefits of this typical Android application for searching restaurants near you, you need to follow step-by-step procedure for right installation-
Install the app in your Android mobile phone.
Register your mobile number to get started with it.
Mention your proper name as user name while registration.
Provide accurate mobile number along with current email id.
Give right address to find the best restaurants near you.
Just click submit and you are all set for using app.
On the whole, using Restaurant App House would enable you to have a wow experience with the time saving features of ordering and tracking food order online without any hassles. This great restaurant application is developed by the expert mobile application development team of Lemosys Infotech company in India.
Contact or hire Android app developers of Lemosys Infotech to get Android developer's service or application development related work respectively.