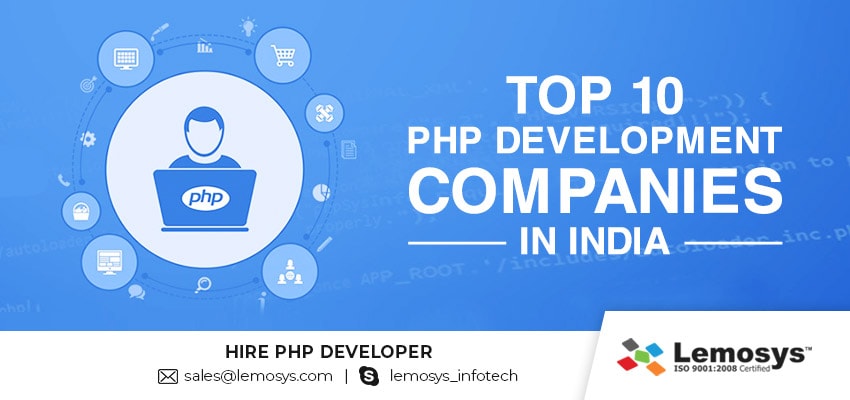 Which are The Best PHP Development Companies in India?
Which are The Best PHP Development Companies in India?
https://www.lemosys.com/blog/wp-content/uploads/2018/07/Top-10-PHP-Development-Companies-in-India.jpg
850
400
Blog
Blog
https://www.lemosys.com/blog/wp-content/uploads/2018/07/Top-10-PHP-Development-Companies-in-India.jpg
Apart from assorted technologies and programming languages, PHP is the popular programming paradigm that is used for professional website development these days. There are several PHP development companies that seem to be one of the experienced PHP web development service providers.
The list of such PHP development companies proffering PHP web development services in India is given below- 
      Incepted in 2007, Sparx IT Solutions provides the best in-class PHP development and designing services to its clients. The team size of company ranges from 40-100 and they have worked with 36+ brands such as Yamaha, Cisco, Stoli, Sodexo etc. They try to upgrade their client's business with innovation and latest technology trend.
        Located in Mumbai, Ezeelive Technologies is a PHP web development company in India having a team specializes in different PHP frameworks. The company has sound knowledge of PHP and related tools for web development work. They have dedicated developers who work well on the latest upgrade of PHP language such as PHP 7.2.X.
3. Hidden Brains–  
       No less than the competitors of market, Hidden Brains is a trusted PHP development company in India. Since 2003, they focus on developing their client's business with the top-notch web development services. Working with this company can be a wonderful experience, as their team has one and only vision to transform technology into a professional website.
      Mind Fire Solutions is highly credited by the list of several happy and satisfied clients. Serving diverse clients, they have focused unit of 500+ people that give emphasize on performing technical work. They have quick understanding of PHP technology and current business requirements to satisfy client's needs.
5. Lemosys Infotech–  
      Leveraging updated technology for developing software products for businesses of all sizes, Lemosys Infotech is a top 10 IT outsourcing and PHP web development company India. They are offering the service of website development and designing, mainly, PHP since 2007. Having a team of 45-70 employees, the company has completed 900+ successful projects based on PHP.
Read Here– Essential things before Hiring Web Development Company
6. Synapse India–
    Synapse India is founded in 2001 and now, considered as one of the oldest companies offering PHP web development services across the globe. They have 15+ years of expertise in PHP web development company. Spotted at Noida, UP, this company offers the services of custom software development in PHP language.
    Octal Info Solution is one of the reputed offshore development companies in India. Located at Jaipur, the company provides the custom PHP development services at low hourly rates according to the demands of clients. Having 10+ years of experience, they follow agile development methodology for serving quality work to different clients.
8. Sphinx Solutions–  
    Sphinx Solutions is a growing software development company in India that offers software products based on PHP. The company was established in the year 2010 with an aim to render solutions to most of the start-ups and brands. They strive to strategize IT implementation from effective planning of a project to deployment and maintenance.
9. Seasia Infotech–  
   Staying on top for delivering custom PHP solutions, Seasia Infotech is a CMMI level 5 company that strives to bring creativity in PHP development work and deliver result-driven outcomes to clientele all around the globe. In addition, they have all experienced PHPdevelopers for accomplishing the tasks within deadline.
10. NMG Technologies–
   With NMG Technologies, 1000+ top clients like Lenovo, Havells, Nikon, Nasscom etc have received the work more than their expectations. They work seamlessly for all the client's requirements based on PHP technology for building high-performance website. Building powerful and customized solutions is their specialty.
You can hire any one of these PHP development companies for web development work. But, Lemosys Infotech is the ever-growing PHP development company. Contact Lemosys Infotech for any query and hire dedicated PHP developer with us. They have consultant team to hear your queries and provide you with the pioneering tech solutions at cost-effective prices.