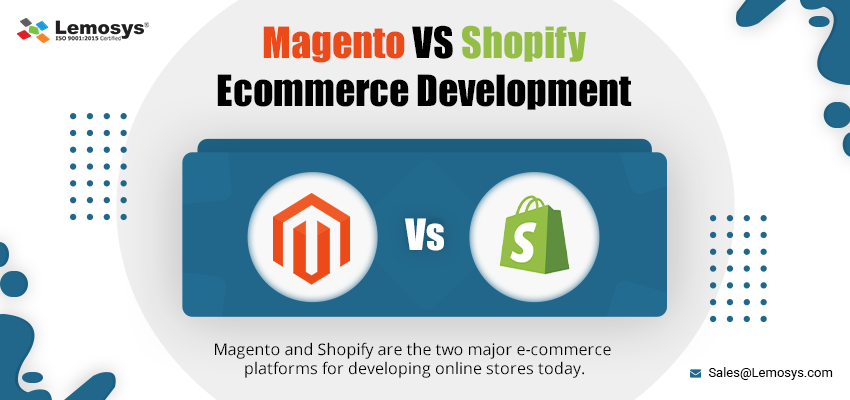 What Are The Pros and Cons Of Magento Vs Shopify?
What Are The Pros and Cons Of Magento Vs Shopify?
https://www.lemosys.com/blog/wp-content/uploads/2018/07/Artboard-2-1.png
850
400
Blog
Blog
https://www.lemosys.com/blog/wp-content/uploads/2018/07/Artboard-2-1.png
Magento vs Shopify are the two major e-commerce platforms for developing online stores today. Both these platforms are reliable with enhanced e-commerce functionality. Though, pros and cons both exist for Magento and Shopify, but these platforms are widely preferred in the market
The detailed description of Magento Vs Shopify is given below-
1. About Magento Platform:
Magento is one of the biggest eCommerce platforms in the world. On the basis of a recent study, it is revealed that more than 70% of the business owners are using Magento to make their business online with the help of Magento ecommerce development in India for their business.
Magento Pros:
Flexible Platform- It is a flexible platform that gives complete liberty to design the store.
Free to use Services- Magento is a kind of public domain that can be used for free. But, users need to pay for the hosting process.
Huge Community Support- Magento forum has made to answers the questions online. Its forum has a large database of user-developed content.
Magento Cons:
Hosting & Security Expenses- Despite the fact that Magento is free to use, the cost of hosting, developing apps, and security is high.
Usability- Magento is lacking in the feature of an intuitive wizard. This makes it typical for non-technical individuals to understand and work in it.
More Time to Launch- It dictates a significant and lots of time investment to launch an online store, which is a serious figure to run a store profitably.
2. About Shopify Platform:
Shopify is a revolutionary ecommerce platform that provides the facility of ease for business owners to sell products online. Shopify platform is a popular platform used by more than 500k users to avail Shopify ecommerce development services worldwide.
Shopify Pros:   
Amazing Storefront Themes- Shopify has mobile-ready themes available that can be used for different devices and screen sizes too.
The function of App Store- Shopify eases the work of an e-commerce based website through its big application store. It can also enlarge the store functionality.
Best Customer Support- Shopify is easy to use and gives 24*7*365 support services to its customers. Email and live chat facility are also available to resolve customers' problems.
Shopify Cons:
Customization Choices- Unlike the Magento platform, Shopify has fewer choices available for customization.
Issues with App Integration- While integrating applications to Shopify, various issues may arise. This can make a store intricate to sell products/services online.
Extra Transaction Charges- To sell products online, Shopify charges a few transaction fees to all business owners online. Although, the option of Shopify payment is available.
All the above-discussed pros and cons for Magento vs Shopify help you to select the best one. For a better e-commerce platform to choose between Magento and Shopify, you can take help from Lemosys Infotech. Lemosys is a pioneering e-commerce development company in India offering quality services of ecommerce development in platforms like Magento and Shopify.
You can hire experts and certified IT professionals for Magento or Shopify development with the company. Just give a call at +91 (731) 409-1887 in India.