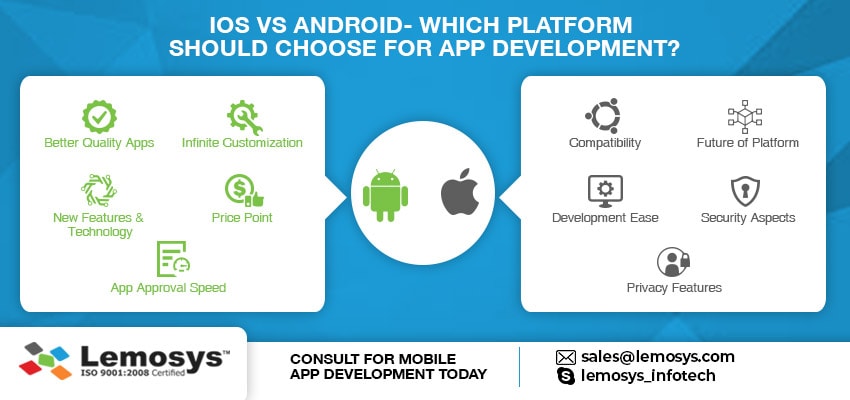 Which Platform should be Preferred for Mobile Application Development? iOS or Android
Which Platform should be Preferred for Mobile Application Development? iOS or Android
https://www.lemosys.com/blog/wp-content/uploads/2018/06/iOS-and-Android-Which-one-is-the-Better.jpg
850
400
Blog
Blog
https://www.lemosys.com/blog/wp-content/uploads/2018/06/iOS-and-Android-Which-one-is-the-Better.jpg
Choosing between Android and iPhone poses tough challenges. Android and iOS have borrowed many features from each other for many years to make an interesting difference in mobile app development. And, both are great in their own ways for serving mobile application development services if mobile apps are developed rightly.
Reasons to Prefer iOS Platform for Mobile App Development
When it comes to defining compatibility, iOS apps are fantastic. The choice of compatibility of applications could be ended with iOS platforms. It gets support from many manufacturers and sellers to invest in Apple phones.
Undeniably, Android shares around 80% of the mobile application development market, but the future of iOS is ever-growing. iOS applications just work well and would be considered the perfect operating system for users across the world.
Coding and programming language are very crucial for the development process. iPhone platform is based on coding Objective C, which is an older, yet efficient language for easy application development.
The security aspects are more in favor of Apple iPhone/iOS application development as compared to other mobile application platforms. Apple devices are more locked up and less vulnerable to hacking attempts in terms of security.
Apple likes to contrast only important personal information to create more personalized services for iPhone users. Apple collects the data on the basis of differential policy, which scrambles the data (meaning people can't be identified personally).
Reasons to Prefer Android Platform for Mobile App Development
Android app developers depict that Android supports the development of better quality mobile apps. Whenever a new version is updated, the Android devices can be upgraded with no difficulty.
Android is a much more flexible mobile platform with infinite possibilities for customization. Its interface can be switched out and also, tweaked off as per the user's expectations.
New Features & Technology-
Android tends to integrate the newest features as well as technologies very rapidly. In addition to hardware features, Android application development makes the mobile device unique extras. It is always fun to enjoy app development with all new features and technologies.
If focus on the prices of app development, then it is 99.99% sure that Android app development can comparatively be done at lower prices than iOS. And, this is why; there are plenty of Android devices available in the market at lower rates.
Major applications released on Android have a faster speed of approval on the Google play store. And, people get better quality mobile apps on the Android platform sooner. Android apps are consistent and can easily be updated across any Android mobile device.
Whatever your choice would be for mobile application development, Lemosys Infotech can help you in world-class mobile application development. They are one of the top-rated mobile app development company in India with a team of expert iOS and Android app developers.
Contact now for developing a high-end mobile app on any platform- Android or iOS.