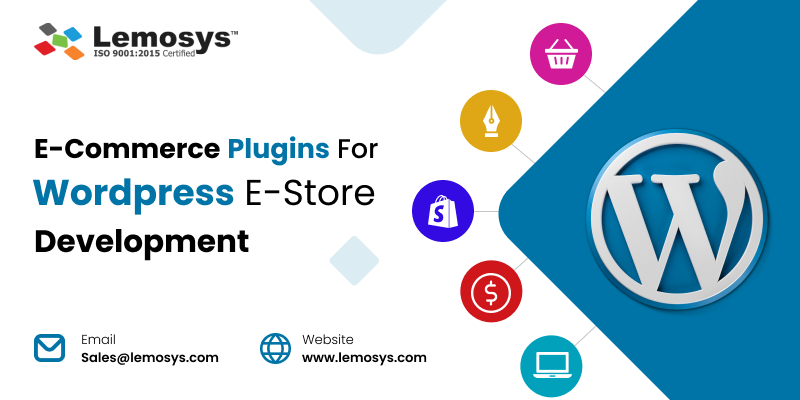 Top 12 WordPress E-Commerce Plugins to Improve Online Shopping Experience
Top 12 WordPress E-Commerce Plugins to Improve Online Shopping Experience
https://www.lemosys.com/blog/wp-content/uploads/2018/07/Blog-Post-3.png
800
400
Blog
Blog
https://www.lemosys.com/blog/wp-content/uploads/2018/07/Blog-Post-3.png
WordPress E-Commerce Plugins are the dominant tools to enhance the functionality of an online shopping store and attract more customers to a specific website. It is reported that the WordPress repository has 45,000+ WordPress plugins giving the best features to an e-commerce website. Among the great collection of WordPress plugins, it is very important to choose the exact WP plugin and create more opportunities to earn profit.
These are top WordPress eCommerce plugins to be used by WordPress CMS development companies for a superior online shopping experience-
1. WooCommerce- One of the wonderful WP plugins for developing an online storefront for a great shopping experience is WooCommerce. It has a good range of themes and features available to be optimized for user-attracting e-store.
2. WP Simple PayPal Shopping Cart- This type of WordPress shopping cart plugin can convert an existing WP blog into the right e-commerce solution. This Plugin has the option of a buy now button to help users get easy access to the shopping store.
3. Envira Gallery- Using the Envira Gallery WordPress plugin, a WP developer can give a responsive and fine-looking gallery look to a shopping site. This gallery plugin has the choice to create albums, set up multiple galleries, open images in pop-ups, etc.
4. MemberPress- MemberPress is a WordPress development plugin that provides the option to build special subscriptions and matchless content for members to request other contacts to register on a particular website.
5. WordPress Ultra Simple PayPal Shopping Cart- This is a WordPress plugin that allows creating a button "add to cart" for posts, web pages, and widget areas. It assists shop owners to sell different products simultaneously.
6. Ecwid Shopping Cart- Ecwid plugin allows for managing the products and tracking the inventory. It can boost the sale with the help of discounts and coupons. With it, customers can choose from 25+ payment gateways for shopping online.
7. JigoShop- It is one such WordPress plugin that comes with all possible options to create an interactive website. This provides users with many benefits such as doing payments with PayPal, uploading products, etc.
8. Product Countdown- It is a type of WordPress plugin that can boost sales by putting products on sale for a valid period. This attracts customers to grab the products before the offer ends.
9. X-Cart Integration- It is a unique WordPress plugin that helps to establish an e-commerce store on the X-cart website first, after that, it supports the integration of new installation to a website.
10. ODude Shop- This is a featured packaged e-commerce platform to sell digital and physical products from a WordPress-based website. ODude Shop assists in various processes such as creating items, and adding descriptions, and pictures of the products.
11. Orilla Cart- Orilla Shopping Cart is a simple and lightweight plugin that gives many options to sell the available products. It enables the creation of custom orders from within the dashboard of admin and sending invoices to customers.
12. MarketPress- MarketPress WP plugin supports most of the major payment services for reliability. It provides an option to set up discount codes and offers customers the ability to become affiliates for product offerings.
For making a far-fetched shopping easy, the above-discussed WordPress plugins are the most excellent choices. It can decrease a lot of hassles of grabbing the attention of customers towards the specific website. You can choose any of these WP plugins as per your store offerings and current requirements.
Hire expert WordPress developer in India with a trusted WordPress development company like Lemosys Infotech. This company can lead your online business by using WordPress content management system services to develop groundbreaking web applications.