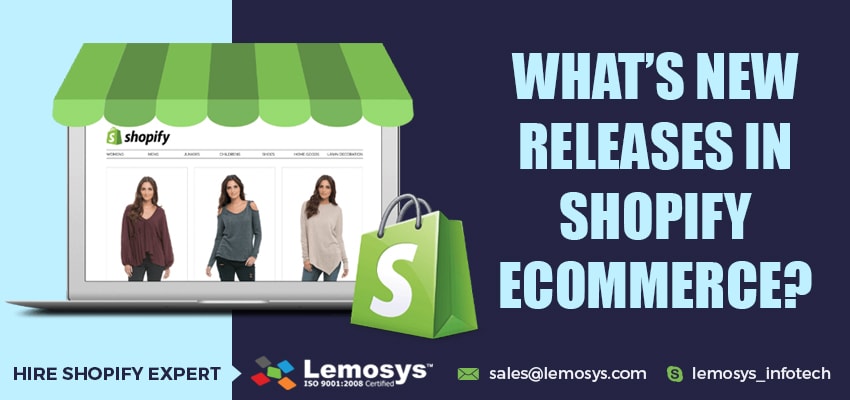 What's New at Shopify Web Development?
What's New at Shopify Web Development?
https://www.lemosys.com/blog/wp-content/uploads/2018/07/New-Updates-in-Shopify-1.jpg
850
400
Blog
Blog
https://www.lemosys.com/blog/wp-content/uploads/2018/07/New-Updates-in-Shopify-1.jpg
Shopify Web Development is an eCommerce platform providing complete control over the look and feel of the e-store website. Shopify platform is designed and user-friendly that allows users to utilize a text editor for doing changes in files and assets. With the availability of 1000 themes, Shopify can help a small to medium-sized business
Shopify offers implementation of GraphQL to web app developers for effective website development. It assists developers to make an application more efficient and reliable. This has replaced many chained REST API calls with a single GraphQL call.
Improvement in Embedded App SDK–
The newest update in embedded app SDK incorporates a popular library called REDUX to manage the state of an application. It provides access to unique REDUX development tools that indirectly, ease the work of developers to debug the application.
New Way to Accept Payment-
In the year 2022, Shopify added a payment acceptance option. This eases the way merchants accept payments from the customers. It allows customers to tap the button and complete the purchase within a few clicks.
Growth and Enhancement in Polaris-
Polaris is the UI component library in Shopify. Now, its documentation is improved and can inherit the updates of the embedded app software development kit.
The sales channel of Shopify is also been updated, which allows users to tag products and complete the buyer journey from initialization to completion. The merchants of Shopify are allowed to tag products on social media channels such as Instagram.
Learn Here- What are the key benefits of using Shopify for Ecommerce?
The dashboard of Shopify app management has kit skills application programming interface. Although some of the existing Shopify applications have developed kit skills for the products, this feature would help many application developers.
The official Shopify partners have also seen a major update in the retail system. Improvement in the POS system of Shopify helps merchants to sell in-person. This, in turn, helps businesses to make their customers get an amazing experience.
Enterprise E-commerce Offering-
Enterprise e-commerce offering such as Shopify plus is updated in the current year 2022. This option is most suitable for higher growth and higher volume merchants. Besides, it is a hosted platform supporting big business brands to grow online websites.
In the united 2022, Shopify partners announced the latest automation platform "Shopify Flow". It has the capability to reduce the workload to a great extent in a few clicks. This can link the client's business tools with one another and thus, automate several tasks.
With the help of the slate release, the theme development in Shopify can be leveled up. This increases the magnetism of a website to users.
This is about the new update in Shopify development that assists both App developers and merchants using the Shopify website online. If you are looking to hire Shopify developers for website development, then seek Lemosys Infotech. Lemosys Infotech is a growing Shopify web development company in India offering best-in-class designing and development services at competitive pricing.