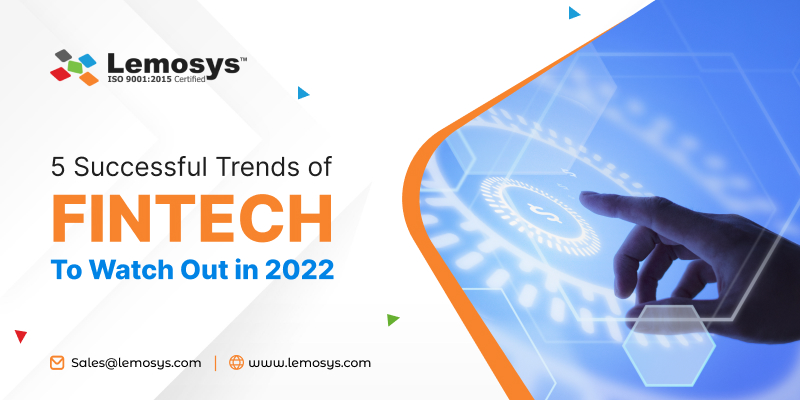 5 Successful Trends of FINTECH To Watch Out in 2022
5 Successful Trends of FINTECH To Watch Out in 2022
https://www.lemosys.com/blog/wp-content/uploads/2019/04/blog.jpg
800
400
Blog
Blog
https://www.lemosys.com/blog/wp-content/uploads/2019/04/blog.jpg
In the current modern world, there is hardly a business that works without having a software application. And one of the most popular and beneficial Software in the banking and financial market is Fintech Software, it works on computer programs and other technology used to support or enable banking and financial services, it is one of the fastest-growing areas for venture capitalists.
Fintech app has transformed the way users handled their finances. They have not made the working life of bankers and investors easier but have introduced multiple facilities like digital wallets, compact market views, and one-touch bank transactions for the general audience. Fintech 2022, Make Inquiry about the new development that has enabled users to get many benefits like one to one lending platforms i.e. the practice of lending of giving money to individuals or businesses through online services that match lenders with borrowers which is beneficial for both investors and brokers and by the use of Crypto Currency, it aided to the environment by making most of the processes paperless.
With the aim to deliver progressive and user-friendly services in the digital world, we at LEMOSYS have launched our own dedicated investment advisory financial mobile app in the equity and commodity market i.e. TRADEIT through which we support our users to invest in alternative plans it will be useful for their future and ensure the respective risk, Being among the most credible mobile app provider in Fintech startups we can help you with following solutions i.e.
 Technological limitations
 Lack of Security
 Complex Networks
 Simplicity of data analysis
 Simplified user experience
TRADEIT is a free stock market advisory & authentic registered investment app and website in which Customers will have the benefits of the following services
Artificial Digital Assistant
Digital-only Banks
The Fall of Paper Money
Blockchain: The boss of the Fintech Revolution
The Power of Automation