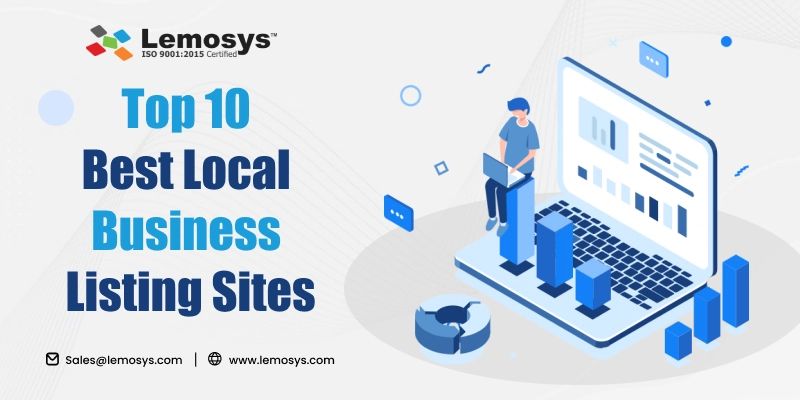 Free Local Business Listing Website To List Your Business
Free Local Business Listing Website To List Your Business
https://www.lemosys.com/blog/wp-content/uploads/2019/04/Local-Business-listing-sites.webp
800
400
Blog
Blog
https://www.lemosys.com/blog/wp-content/uploads/2019/04/Local-Business-listing-sites.webp
If you are a business owner and want to do internet marketing yourself, then you should know about the business listing website. Local Business listing is an online portfolio that contains information about your company, such as your name, address, phone number, hours, and other information. Most platforms that provide this information are free to use, but users must manually add their information or claim their submission. Create your Local Business listings is a challenge that attracts new customers.
But, once you claim your listing, then you can control what information and images are shown on these sites about your services, which is surely worth the effort.
Sometimes, you may already be listed, so it's just a matter of claiming the page for your website. What is the difference between updating and claiming business registration? The update means you have already created an account and just require adding new information on that. Claiming means that a page for your business exists, but you may not have created and set it up. In that case, you have to verify the page. It's your listing you can change any information if required. And it's also helpful for your SEO and digital marketing efforts.
Details / Information Require On Every Business Listing Platform:
Company Name
Address (City, State, Zip)
Main Phone Number
Website
Category
Logo & Images
Working Hours according to days
Description – Description of your local services or product you want to promote, with minimum of 250-350 Characters
There are too many websites of local business registration in which your's website could be listed so, how do you choose the best and top? Don't Worry!
Here are the top 10 best Local business listing sites you should do claim or update your details:
Google My Business – Google My Business speaks out and connects you directly with leads or customers, whether they're looking for you on Search, Google+, or Maps. Get on Google anywhere on the page, sign in with your Google account, and follow the steps to add your business listing in google.
Facebook Business Page  – According to Facebook, it can help you to reach the entire world or people who are important to your service or products. To create a Facebook page follow the instruction, click "Create a Page" from the drop-down menu, and then follow the steps to build out your profile.
Yelp for Business – The yelp website has Millions of visitors or traffic every month to review businesses and share information. Help them by listing your company's detail in it. If it exists, you have two choices first is Claim Now or another Already Claimed URL. Click the choice you see and either sign in or set up an account to edit it.
Yellow Pages – Yellow Pages, will not only get you online but can also help you get found, drive leads and expand your reach. By signup on the website update, details of the service you served, and then click Get your listing fee.
Yahoo Local – Yahoo Business, they are a comprehensive directory complete with ratings and events, maps, reviews, and many more. Scroll down on that page to try the local basic listing for free and click, Sign Up. Then, update your website's contact information including address, phone number, and URL. You don't need to pay for this service.
Business on Bing Places – Bing Business, is a Bing portal that enables, owners of websites to add a listing of their services or products on Bing. Possibilities are that you're listing is already present on it. You have to claim or update it.
Manta – It's one of the largest online resources dedicated to small businesses. They deliver products, services, and educational opportunities that are effective, easy to understand, and geared to help business owners become more competitive in their respective industries.
Citysearch – This platform allows users to actively engage with local businesses and easily locate the 'best of a specific type of local venue. See what services Citysearch users in your area prefer by browsing the Best of Citysearch list.
Angie's List – Angie's List has been a trusted name for 20 years that consumers depend on whenever they have home or health care needs. If you're ready to give it a try for your local business listing and get reviews by real customers
EZlocal – Easily add your business information to its listing platform by adding details of your company information and some extra details. It will help grow your website's digital presence and manage at a price that's right for you
Many other Local business listing platforms/websites you can check on "Synup" and "Yext" by providing the business name & mobile no of your company, where you can add or update your listing in google.