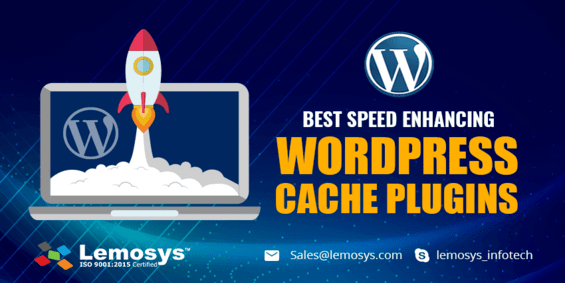 5 Best WordPress Cache Plugins You Need To Speed Up Website
5 Best WordPress Cache Plugins You Need To Speed Up Website
https://www.lemosys.com/blog/wp-content/uploads/2019/05/WordPress-Cache-Plugins_565x283-min.png
565
283
Blog
Blog
https://www.lemosys.com/blog/wp-content/uploads/2019/05/WordPress-Cache-Plugins_565x283-min.png
In today's time if you want to start a business you need a website to showcase the services you offer to your customer, A website always acts as a mirror to showcase the business which in turn helps to enhance the business. So it is always recommended to choose a safe & secure platform for websites. It is no less to say that WordPress is one such thing that never confuses its customers and always being beneficial due to its user-friendly nature and easy-to-use behavior & use of WordPress cache plugins for increasing website speed.
While using a WordPress website we have to add content to our website to provide guidance or an overview of our services but adding more media content on the website, will necessarily slow down the website speed. So to overcome this situation. We have to use WordPress cache plugins to speed up your website and boost its performance. A WordPress cache plugin develops static HTML pages of your website and delivers them to your server.
Each time a user tries to open your website, your caching plugin assists up the lighter HTML page instead of processing the comparatively heavier WordPress PHP scripts. This allows the caching plugin to tremendously improve your page loading time.
Best Speed Enhancing WordPress Cache Plugins
It is one of the most popular premium WordPress cache plugins. WP Rocket is a very easy-to-use plugin all you need to do is to install and activate the plugin, & page caching will start working immediately that's why WP Rocket is indeed the most powerful caching plugin for WordPress to know more about it have a look at.
Pros of Plugin –
It allows users to instantly cache their website with one click. Its crawler automatically produces WordPress pages to build up the cache.
It will improve the Indexing of your website on search engines.
It uses to compress the Static File.
This plugin offers a Lazy loading to a website, which means the image will be loaded only when they're visible to your visitors.
Cons of Plugin –
While other plugins are available for free this one comes in a three-price range which can be used according to the number of a user actively using it.
Price: three annual plans- Single ($39), Plus ($99), and Infinite ($199) while single plan can be applicable on one website, plus plan will support three websites and the Infinite plan can be used for unlimited websites.
Hyper Cache is a caching plugin entirely written in PHP that can be used in both cheap hosting as well as high-end servers which can experience an increase in the speed at which your website is accessed with the help of this plugin.
Pros of Plugin –
If you're using different layouts for mobile, this plugin comes with a mobile theme switch option so you don't have any theme related issue
Another unique benefit of Hyper Cache is its ability to serve cached pages to comment authors
Cons of Plugin –
There are a few reported issues by some users like theme and plugin incompatibility.
Super caching is also limited if you are logged in with your account.
0 many features this plugin offers are a little confusing.
Price: Free
With the most popular WordPress cache plugins on the CMS platform, this plugin is used for improving your server performance by caching every condition of the website and also offers content delivery network integrations.
Pros of Plugin –
It is the only plugin designed to improve your web server performance which helps in optimize all practical hosting environments
If your site is hosted on a shared hosting network or a dedicated server, you'll find W3 Total Cache helpful to reduce page load time and increase the website speed through the feature
This plugin also offers support to Google Accelerated Mobile Pages (AMP) and Secure Socket Layer (SSL).
Cons of Plugin –
For new users, setup is a little bit difficult to install W3 Total Cache.
While setup if we didn't follow the proper procedure it will cost your website and the error would not be easy to solve
Price: Free
WP Fastest Cache has many features which make him the most desirable and efficient plugin with fewer configuration settings for WordPress caching, which makes this plugin available in the official WordPress plugins repository.
Pros of Plugin –
Provide minimum settings as compared to other top plugins mentioned in the blog post but is still very powerful and efficient.
WP Fastest Cache decreases the CSS and HTML files so it can minimize the size of static files.
This plugin also used to create static HTML files from your dynamic WordPress site
Cons of Plugin –
This plugin is available in both free and premium versions and used according to it.
In free versions, the user will get basic services but in a premium version, he will have a service mobile caching, image optimization, and a lot more.
Price: –  For basic version –  Free and  Premium services –  $39.99
With a maximum number of installations, WP Super Cache is a widely used caching plugin i.e. 2 million active installations it includes all recommended caching features that you will need to speed up your website.
Pros of Plugin –
It serves cached files in 3 ways too i.e. plugin uses three different ways of serving the cached files- Expert, Simple, and WP-Cache to make sure that your website is ready for traffic spikes at all times.
You can easily adjust WP Super Cache with default settings.
It offers features like Cache preloading and Browser caching which make this plugin user-friendly and easy to use.
Cons of Plugin –
Users haven't shared any major issues with this Plugin as of now.
Price – Free
Conclusion
We hope by reading the blog you will get helped to find the best WordPress plugins for your website to speed up, but when it comes to choosing between free and premium WordPress cache plugins, you will find main difference will be of service provided by any of plugin but whether you choose a free or premium plugin Both of them are constantly being updated and are used by over a million websites.
To know more about the WordPress templates and how to use them on your website and its design please follow the link and share your concern with us, At LEMOSYS we have an expert WordPress developer who worked on designing and developing of WordPress-Website, for our clients.
Good luck speeding up your site!