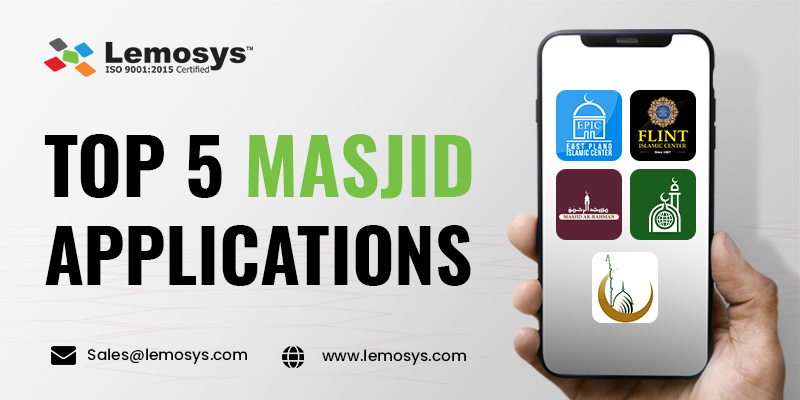 Why you should Use Top 5 Masjid Applications?
Why you should Use Top 5 Masjid Applications?
https://www.lemosys.com/blog/wp-content/uploads/2017/07/Blog-post.png
800
400
Blog
Blog
https://www.lemosys.com/blog/wp-content/uploads/2017/07/Blog-post.png
[responsivevoice_button rate="0.9″ pitch="1.2″ volume="0.8″ voice="US English Male" buttontext="Listen to this article now"]
Going to the masjid to pray to Allah is a normal trend for every Muslim. But, what if you are new to someplace and don't know about the masjid located nearby your area? It is sure that you need help from someone or somewhere to find the best Masjid nearby your area. You can make use of the Masjid applications to cater to your need if you are one of the smartphone or iPhone owners. Using Masjid apps is the right way to search for the masjid with a few simple clicks. Along with the best masjid search, you can learn about the committees, services, and various learning programs with ease.
Here are the Top 5 Masjid Apps that help you find the best masjid near you:
Epic Masjid is a wonderful iOS application that identifies the nearest mosque to you. You can access important updates, prayer time, reminders, events, donations, live streaming, and many more features through this mobile application. This mobile application is suitable for both iOS and Android platforms. This can even help you get all your questions related to religion and prayers to get answered in no time.
If you want an addition to the world of iOS application development available on iTunes library software, then here is the best application developed for you.
Flint Islamic Center is an application that allows you to learn the way to read the Quran with the help of programs, conducted for both youth and adults. Getting free updates and prayer time notifications is an added benefit if you download this application on your mobile phone. You can also watch videos, and tutorials covering various sounds, letters, and advanced reading too.
Whether you want to receive immediate updates and text notifications, such as E-id prayer, moon sighting about Ramadan, Janazah alert, or some urgent community issues, accessing the Islamic Association of Carrollton is the right choice. All you need is to download this application and benefit from its services.
Are you questing for remarkable religious apps that help you register the nearest masjid in Rayleigh to you? If yes, then undoubtedly you should use the Islamic Association of Rayleigh. Through this application, you can access other information as well, including prayer time, Islam religion, and the true value of the Quran. Scheduling your appointment online with the Imam of the Islamic Center of Raleigh prior to your visit is an added advantage.
Another useful application is Masjid Quba Edmonton. This application has added the functionality of notification enhancements. Accessing this application lets you determine the timing for daily dua, adhan, and Iqamah with ease. In addition to the upcoming events in the masjid your knowledge, this application is compatible with the iPod, iPhone, and iPad touch.
If you want to develop religious and even, business applications for you then you should try Lemosys Infotech Pvt. Ltd. We have a veteran team of IOS Application Developer & Designer for iPhone/iOS Apps Development in India, who develops and designs mobile applications in nominal rates. Moreover, we develop all such applications that are compatible and supported by all types of versions of the iPhone.
If you are one of the smartphone users, then what are you waiting for now? Download and install this application on your smartphone now and get the benefits of it.