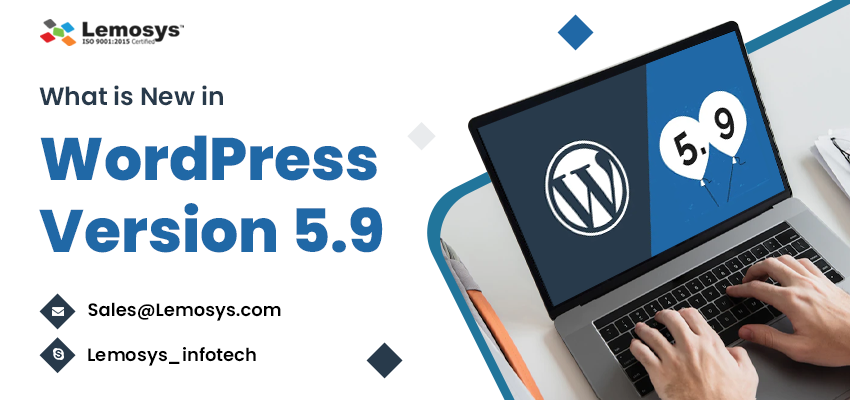 Why Upgrade Website with the Up-to-date WordPress Version 5.9.?
Why Upgrade Website with the Up-to-date WordPress Version 5.9.?
https://www.lemosys.com/blog/wp-content/uploads/2018/06/Worspress-5.9.png
850
400
Blog
Blog
https://www.lemosys.com/blog/wp-content/uploads/2018/06/Worspress-5.9.png
WordPress is persistently being enhanced day by day and its installation should also be upgraded as often as possible. From this May 2022, WordPress 5.9 is also available, which is a privacy and maintenance release.
Let's have a look to know that WordPress websites should be upgraded to the latest version WordPress 5.9-
In WordPress 5.9, several privacy features are added. This helps WordPress site owners to upgrade their site and take advantage of it. As in, the privacy features allow site owners more accessibility to collect, use, and share personal data. However, WordPress site owners need to follow certain national and international privacy rules and regulations.
It is one of the biggest upgrades to handle the export and erasure of data on the WordPress website. With data handling tools, data export can easily be done that allowing site owners to export a zip file (containing personal data of the user). Besides, the data erasure option is to erase the personal data of users.
Compatibility with Plugins-
Every time the WordPress version is updated, it brings more compatibility with the use of new plugins. After a major release of WordPress 5.9, many WP plugins will be updated to assure compatibility with this new WP version. In addition, a recent release of WP comes with the features of the privacy policy page for site owners and included big improvements in site accessibility.
Learn more- Complete Guide to WordPress
For each WordPress release right from WordPress 4.0 to WordPress 5.9, cool features are introduced and some changes are made to the software. It is likely that WordPress 4.0 updated with an experience of plugin install, inline image editing in 4.1, faster update of a plugin in 4.2, and so on.
Similar to other open-source software, the details of the WordPress upgrades are made public. To prevent websites in WordPress from being hacked by malicious content, they should always be updated to the latest version. And, when the WordPress site is updated, the hackers and malicious code distributors wouldn't be able to search the website. Also, security vulnerabilities can be spotted as well as handled easily.
The speed of a WordPress-based website is a huge factor to be benefited with a good number of better performance advantages. WordPress's new release 5.9 is featured the functionalities that help in improving the performance of a website. This most up-to-minute update of WP works on increasing the website speed.
You should be aware of the fact that 95+ updates are already done in WP 5.9 since its release date.  Some of these updates include mine filter in the media library, PHP polyfills are added for forwarding compatibility, and exact variable validation too.
Above all is the necessity to upgrade your WP site with a recently released WordPress version. If you want to upgrade your already developed WordPress website with the features of the recent WP release, then hire dedicated WordPress developer of Lemosys Infotech now to accomplish your website work within the assured deadline.
These WordPress developers have good hands in WP development and customization as per the client's needs. In addition to WordPress development, the company also offers WordPress resources at competitive pricing.