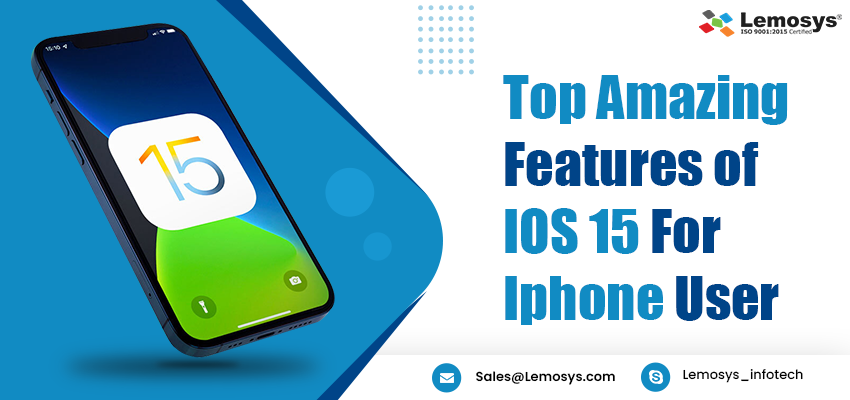 Unbelievable Features Of The Newest iOS 15 Version In 2022
Unbelievable Features Of The Newest iOS 15 Version In 2022
https://www.lemosys.com/blog/wp-content/uploads/2018/06/Artboard-1.png
850
400
Blog
Blog
https://www.lemosys.com/blog/wp-content/uploads/2018/06/Artboard-1.png
Probably, in the month of September 2021, Apple is going to launch the next version of iOS – iOS 15 with awesome new features.  The company is rumored to work on new features and functionalities for making iPhone users a little more mindful and less addictive with a handset.
This is the track down of 20 new features in the iOS 15 version for iPhone and iPad-
1. Group video Chatting- iOS 15 would be featured with having chats and answering calls over the Apple watch. It comes with a facetime conference call to support video group calls.
2. Augment Reality- Apple demonstrated an augmented reality feature in iOS 15 to assist in viewing a real-world object through the camera of the iPhone along with the flair of zooming in/out of the objects.
3. Multiplayer AR Games- People can play multiplayer augmented reality games like Pokémon Go with one another.
4. Siri's New Shortcut- Siri suggests shortcuts feature in the lock screen as well as the search pane in iOS 15.
5. Auto Software Update- iOS 15 will have the option of automatic updates that automatically download the iOS software and install its software update.
6. Near Field Communication- Apple iPhone 15 might come with an indispensable chip inside it that enables NFC to use a whole range of functions.
7. New Animoji- iPhone 15 will be powered with face ID technology. It is one of the newest technologies equipped with face-tracking choices in iOS 15.
8. Swipe Up for Face ID- iPhone 15 users can continue to try Face ID unless and until it works. For this, Apple provides a swipe-up feature in the latest iPhone version.
9. Emphasize on Digital Health- iOS 15 is introduced with a suite of tools to enhance the user's digital health. It helps to block notifications, curb app usage and ease notification features.
10. Screen Time Widget- This will show the frequently used applications in one widget. Users can simply tap on the widget and jump into the settings of screen time etc.
11. Voice Memo- Voice memos in the latest version of the iPhone are redesigned and easy to use.
12. Reading Now- iBooks in the updated iPhone 15 get a new design and the choice of Reading now assists to pick up the page or line where a reader left off.
13. Do Not Disturb- iOS 15 is designed to limit distractions, especially, when it is bedtime. When DND is activated, it won't show notifications during preset hours of bedtime.
14. Better Portrait Lighting- Newer iPhones are equipped with dual cameras that have the capability to generate a mask of an individual. This gives a natural-looking image of a face.
15. Critical Alerts- There are a few tempting applications available in iOS 12 that break down the barrier of DND.
16. Silent Notification- This notification has the capability to migrate some notifications silently.
17. RAW Image Support- This new option in the upgraded version of the iPhone assists users to import and manage the pictures in RAW format. The image editing option is also there.
18.  Multiple Keyword Searches to View Photo- An iPhone 15 user can do multiple keyword searches in photos and check the right snapshot in the photo gallery easily.
19. Autofill Security Code- Similar to Android phones, iOS 15 users can now be able to read the message that comes with a code and autofill it.
20. Password Sharing- Now, iPhone/iPad users can throw passwords from one iPhone/ iPad to Apple TV without the need to look on paper to remember a password.
It is perceptible that iOS 15 has all remarkable features to be used in mobile devices running on the iOS platform. If you are looking to buy a new iPhone and iPad, then wait for the time till the iOS 15 gets launched.  , once you buy an iOS 15 featured iPhone or iPad, you will come to know how interesting and entertaining is it to make use of iOS 15 iPhones.
In addition to this, If you are planning to develop an iOS application of your choice to run on your iOS featured iPhone. We are a trusted and experienced iOS application development company in India that offers world-class iOS app services to our dear clients.