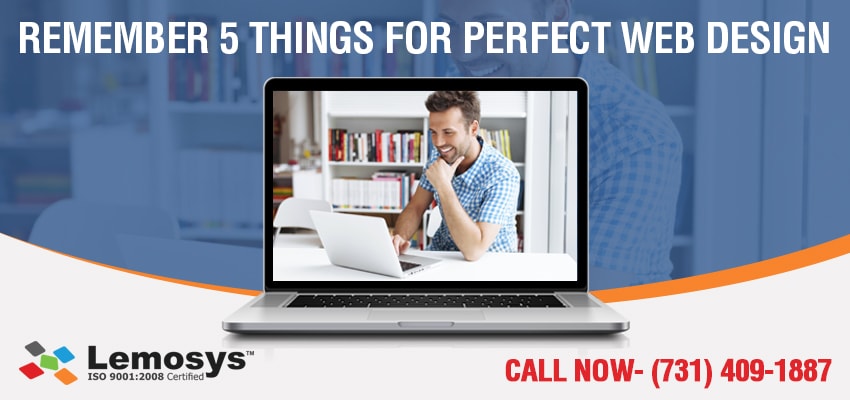 What Steps To Follow To Have An Ultimate Web Design?
What Steps To Follow To Have An Ultimate Web Design?
https://www.lemosys.com/blog/wp-content/uploads/2017/10/Perfect-Webdesign.jpg
850
400
Blog
Blog
https://www.lemosys.com/blog/wp-content/uploads/2017/10/Perfect-Webdesign.jpg
[responsivevoice_button rate="0.9″ pitch="1.2″ volume="0.8″ voice="US English Male" buttontext="Listen to this article now"]
If you are a leading business, then you must comprehend the true value of web design. Might be you have already designed a website for your business, but it needs to be updated according to the latest market trends and exceptional design features. There are many reasons to have a compelling website design including navigation, brand consistency, content, search engine optimization, and reading patterns too. In fact, website design is a great experience if you like to create documents and works well with computer technology. It is a combination of technical skills and the ability to think creatively and beyond your imagination.
Do you know that there are certain steps that should be followed to create an ultimate web design? Here are some of the major steps mentioned-
Web design should be easy to navigate for common people
Navigation is the important key for any website design for consuming the contents or purchasing the products. It shouldn't contain any unnecessary addition as it only will distract the user from the particular thing he/she is looking for on your website. So, if you want a web design that achieves your business goals, then you must concern about the navigation of a website.
A website should be designed by writing unique codes
Always remember to not copy the already written code of other professional websites. As in, it may create a conflict if their original coders get known about it. Also, you will not be able to fix the errors when any error is occurred during the design and due to which web design may not fulfill all your requirements of features and functionalities.
Web design should have consistency in its design is a way to success
A website design should be consistent because it is the only way to ensure customers or viewers where they are and what type of services they can get from your site. Right from navigation to the menus of the website, the web user should be familiar with the overall layout of a website.
A website shouldn't have pages creating a barrier for web users
Some web designers think that creating impressive and attractive pages is enough for a good web design. But, it is highly required to make them recognize that such pages may create a barrier that stops viewers to push forward to other web pages. So, a web designer should try something new and different approach like using animations in their design to get more web users.
The website probably has very few effective banner advertisements
A great web design is one that doesn't have banner advertisements in bulk, but a few effective banners promoting the business and making it more profitable and valuable than ever before. The banner advertisement should surround with relevant and useful content for users providing information related to the products and services offered to the people.
Apart from these steps, if you are facing problems in designing a website, then surely you ought to refer the web designing companies like Lemosys Infotech. Our competence lies in offering customized and cost-effective website designing services and other IT functionalities meeting the entire technology requirements of our happy customers. With an accent on current technology and process breakthrough, we have achieved the milestone of becoming one of the top technology partners delivering bespoke and cutting-edge technology solutions.
Hence, you can hire creative web designers with us that have unmatched skills in designing and even, helped numerous clients in generating a high return on small investments.