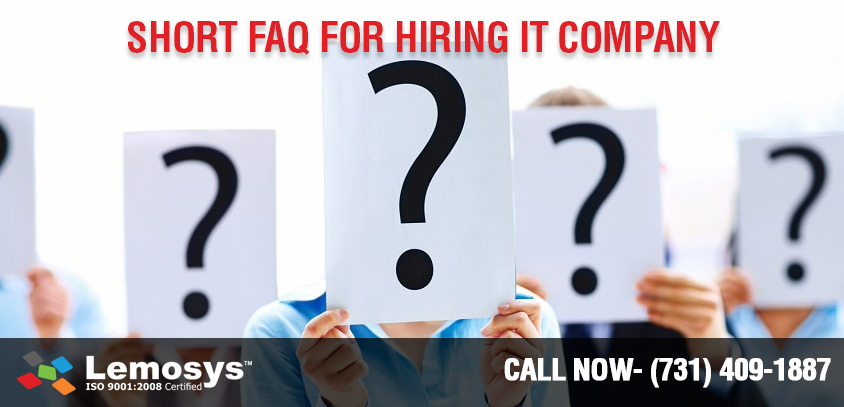 What Questions should you Ask When Hiring Any IT Company?
What Questions should you Ask When Hiring Any IT Company?
https://www.lemosys.com/blog/wp-content/uploads/2017/10/Questions-You-Should-Ask-Before-Hiring-IT-Company.jpg
844
407
Blog
Blog
https://www.lemosys.com/blog/wp-content/uploads/2017/10/Questions-You-Should-Ask-Before-Hiring-IT-Company.jpg
[responsivevoice_button rate="0.9″ pitch="1.2″ volume="0.8″ voice="US English Male" buttontext="Listen to this article now"]
Hiring a reliable and trusted IT company can really be a challenging task. One should always go through a few frequently asked questions that might reduce the hassle of hiring and even help to get the right IT business too.
Why hire you?
A leading IT consultant business should be specialized in offering well-optimized IT solutions and having an experienced team of employees committed to hard work. You should rely on a company that has the ability of risk-taking, commitment to customers, and a positive attitude towards work.
How long are you in the IT business providing IT services to the customers?
A pioneer IT business should have a minimum of 8-10 years of experience in the industry. Such IT businesses offer better services at cost-effective rates and with less work headache.
Do you have any industrial certifications to represent your company on a global scale?
An IT company should have industrial certifications to represent the company on a global scale. The certification shows their gratitude towards growth and hard work to achieve such a great level.
What are your different coverage areas for rendering quick IT services?
Most of the growing IT service provider renders their services worldwide to reach a large customer base. Also, some of the companies offer quick IT services to a particular area on monthly basis or at the required time.
What are the things that make you different from competitors to strive for today's market?
Striving in today's market can only be done by providing solutions matching the highest quality standards and extraordinary post-implementation support. A good company always maintains continuous follow-up with the clients.
What is your methodology for project development?
A distinguished IT sector adopts the most suitable methodology for successful project development. It includes an information system that is utilized for structuring and planning the development process.
Is there any time assurance for completing the projects and delivering them?
Most of the Company assures that they will deliver the projects in a timely manner, but they actually do not do so. Hence, it is crucial to check that the company is completing and delivering the projects on time before hiring them.
What is your payment range for different IT services offered by you?
Before hiring any IT Company you should confirm the payment range charged for any of the service offerings. On the basis of this, you can easily define your requirements to them and demand for the project accordingly. Probably, you should choose the company providing various IT services at affordable rates.
What is your process to handle clients' queries and other technical support requests?
Running any IT business effectively demands rapid technical support and a quick process to handle any of the client's queries. It should have a well-organized help desk structure and workflow.
What set of requirements do you want from our site for the successful completion of the project?
You must give the precise set of requirements if you want to complete the project within the assured deadline without any issue. Because, depending on your desired requirement set, a project is built.
What is the accurate time to contact you? Are you available 24*7?
The most accurate time to contact any IT business is their working hours. The best company is always available 24*7 to solve your query.
How I can be assured about the reliability and quality of products offered by you?
For a suitable IT Company, the quality and reliability of the products is a major purpose. They leave no stone unturned to satisfy the needs of customers.
Can you show your best work (portfolio) to us?
Yes, a few companies are ready to show their work portfolio which includes already developed projects by them. This helps you to build trust in them with an ease.
Do you offer post-development maintenance services?
The post-development maintenance services offered are crucial to maintaining the project for a longer duration.
What if I don't get my questions answered here? Is there any other way to contact you?
A reliable IT consulting business has various ways to get all your questions answered. For instance, they may reach you via email support, Skype chat, and even more.
Well, all the above-asked questions are the kinds of common doubts that may strike any customer when they are questing for a trusted IT solution provider. Fortunately, we at Lemosys Infotech, are a well-known ISO certified IT business providing great IT services. We accommodate most of the above essential requirements to deliver the highest quality solutions to our potential clients.
Also Read: How would you describe your coding skills in an interview?