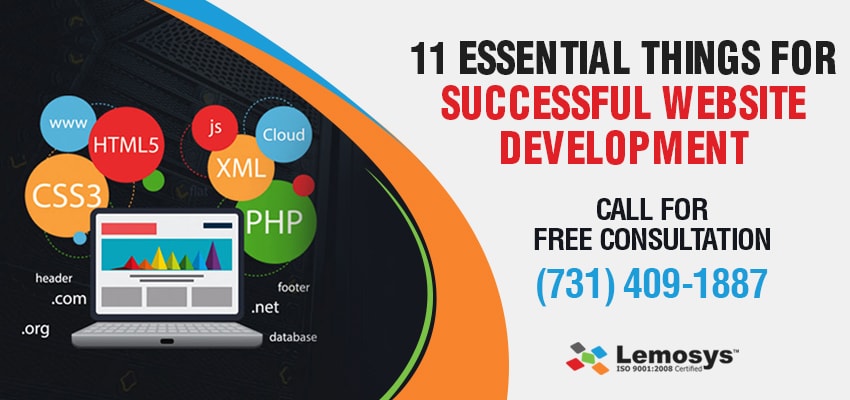 Developing New Website? Remember Important Things for Development
Developing New Website? Remember Important Things for Development
https://www.lemosys.com/blog/wp-content/uploads/2017/11/11-Successful-Things-for-Website-Development.jpg
850
400
Blog
Blog
https://www.lemosys.com/blog/wp-content/uploads/2017/11/11-Successful-Things-for-Website-Development.jpg
You may understand that website development plays a huge role in the success of any business. Website development is imperative to get a high web presence and allow a strong base of web surfers to get in touch with you and your business. This is so because, without having a website representing your business, it is not possible to leave your impression at the global level. But, have you ever thought about what features your website will have? Do you know what particular things are that your website should be grouped in?
Top 10 things that are essential for effective website development-
1. Interactive functionality-
When it comes to talking about the functionality of a website, there are a few things to take into consideration. The website should be featured according to the user's perspective and should have proper validations. This helps visitors to interact with the services and information that you offer.
2. Simple navigation-
Simple navigation is imperative to enhance the appeal and efficiency of a website. This, in turn, increases the customer reach to your website and improves the online presence of your brand.
3. Mobile friendly-
Now according to Google guidelines, every website should be mobile-friendly, the web application development should be mobile-friendly which means that it should be compatible with all handheld devices, mobile phones, tablets, and personal computers.
4. Integration with social media-
It is become a requirement to integrate your website with social media. It helps businesses to be benefited from the newest type of business advertising. Through this, you can generate awareness about your company and thus, promotes your brand.
5. Shorter response time-
Do you know that a recent survey is conducted in terms of web services? It is unveiled in this survey that the website should have a shorter response time. When a customer clicks on the page, it should be loaded in less time. Because you may lose the customer if it is taking more time to load pages.
6. Well defined product offerings-
Be assured to have a clear and precise definition of the products and services offered by you. A website having well-defined product offerings helps to gain more customers reach.
7. Effective back-end service-
It is not possible to develop a fully functional website without choosing an effective back-end service. You can choose a back-end service as a programming language and the most suitable database.
There are different types of programming languages such as Java, PHP, and .Net in which you can ask for a web developer for effective website development. The most popular and cost-effective programming language is PHP. Using one of the frameworks, a fully functional website can be developed.
8. Right contact information-
Have you ever thought that you have developed a website that is fully functional? But, what if it doesn't have the right contact information. It will definitely let you lose a number of clients reaching you. Most of the things in contact information include Google Map and correct phone details as well.
9. Captcha tests-
The company's website that doesn't have Captcha tests feature on their website receives spam and from the client side more and more. So, it is advised to have a Captcha test to avoid negative feedback and spam to your website.
10. Customer's testimonial-
By having a customer's testimonials, you can easily get the trust of your clients. This helps to make more sales of your products and services offered.
However, there can be more things on a website that represents business as per your business logic and client's requirement. Afterward, when you understand the top important things required for web development, it is high time to choose one of the reputed website development service providers.
The website development providers have an intelligent team of web developers developing web-based applications with ease.
One such web development company is Lemosys Infotech. They work on the latest technologies for offering web services such as website application development and e-commerce web development at cost-effective rates to their potential clients.