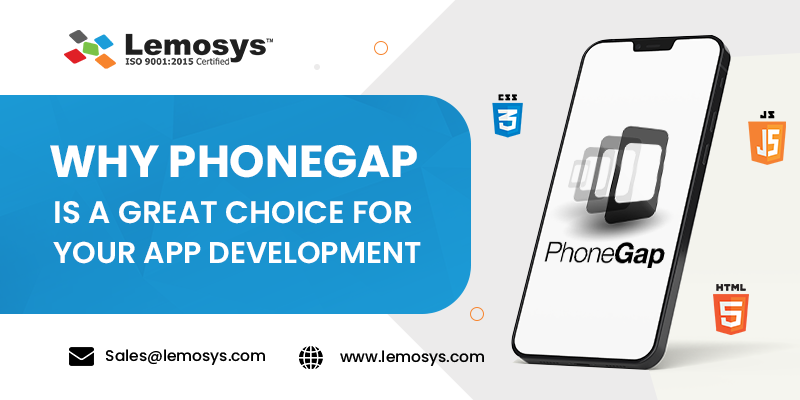 PhoneGap: An Excellent Android Framework to Develop High-end Mobile Applications
PhoneGap: An Excellent Android Framework to Develop High-end Mobile Applications
https://www.lemosys.com/blog/wp-content/uploads/2017/11/Blog-Post.png
800
400
Blog
Blog
https://www.lemosys.com/blog/wp-content/uploads/2017/11/Blog-Post.png
[responsivevoice_button rate="0.9″ pitch="1.2″ volume="0.8″ voice="US English Male" buttontext="Listen to this article now"]
Within the past few decades, smartphones have become very important for almost all people and make a huge success story for them. This is an undeniable fact that these smartphones are not only restricted to attending calling and talking to your loved ones at the moment. PhoneGap is a top-class Android framework. It is being used by several businesses to grow faster in the highly competitive market suite. You may be thinking that how these smartphones can help businesses to gain benefits. All these gains are achieved through mobile technology such as Android and its latest innovation that eases the work of mobile application development and much more.
Android helps in developing mobile applications with the help of accessible Android software and Android frameworks in the Android world. There are various Android frameworks on hand including jQuery Mobile, Corona SDK, and TheAppBuilder too, but all these frameworks lack some of the essential features that are all covered in PhoneGap. Why is it so? The mobile application developers have to cover many aspects such as operating system platform, functionality, look and feel, and whatnot to make it reachable to a great number of mobile users. And, it becomes really typical to develop wonderful mobile applications featuring all these things. You may be astonished to know that PhoneGap is an open-source and free framework that is sponsored by Adobe and Apache. This is precisely the reason why the PhoneGap-An Android framework is becoming popular and used for developing mobile apps.
 The stable release of PhoneGap is on 12 May 2017, though the work on developing PhoneGap was started in the month of October 2011. Recently, the latest version of PhoneGap that comes into play is PhoneGap Desktop Beta 0.4.5 for application development.
PhoneGap is the top-class Android framework that makes Android developers develop useful and resourceful apps with standard web application programming interfaces for most mobile operating systems. It is in fact considered a cross-platform application.  The only thing about PhoneGap is that the application developers need not have much knowledge of the Android programming language or expertise in it. As in, it can create mobile applications by utilizing the knowledge of web technologies that you know and like to work on.
The web technologies such as HTML, JavaScript, and CSS are used here to help application builders develop amazing mobile applications if they have little knowledge of these web technologies. To make use of PhoneGap for Android app development, it is compulsory to create applications using these web technologies. And, the application created should have configuration files, icons for the application, and information or content. These items are enough to configure the settings and develop one such mobile application that you always desired.
In addition to producing mobile applications easily and quickly, PhoneGap allows its users to upload the information and data on the website and it converts this information and data into various application files without any human intervention.
Whatever your choice may be for developing remarkable mobile applications that run on different platforms, Lemosys Infotech would assist you in developing these applications if you hire one of the mobile app developers from its experienced web team. The app developers of Lemosys work on the latest frameworks, tools, and software development kits. Furthermore, we are providing distinguished android mobile application development services for the long run and serving its client base across the globe.