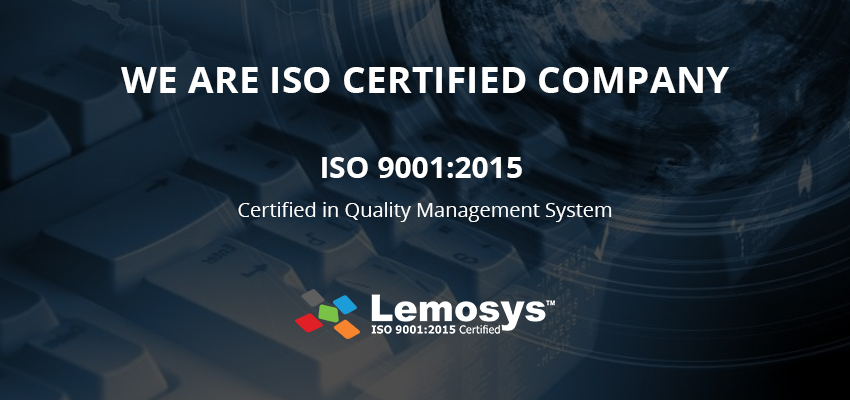 Lemosys Infotech ISO Certified
Lemosys Infotech ISO Certified
https://www.lemosys.com/blog/wp-content/uploads/2019/01/Lemosys-Infotech-ISO-Certified.jpg
850
400
Blog
Blog
https://www.lemosys.com/blog/wp-content/uploads/2019/01/Lemosys-Infotech-ISO-Certified.jpg
Lemosys Infotech Is ISO Certified (ISO 9001:2015) for IT services and Quality management systems and has its operations in India and United States, a company was formed in 2007 with an aim to be the highest quality software development company in the world for excellent services and delivering standard value to customers, employees and our associates.
We offer many IT services for small and big organizations such as
E-commerce Development, Shopify Development, WordPress Development, Laravel Development, Node JS Development, React JS Development, Opencart Development, Drupal Development, Angular JS Development, HTML/CSS Development, PHP Development, Android App Development, Magento Development, iPad App Development, React Native Development, Cross-Platform Development
Web designing and development is the main company activity, we are also involved in web application development. We provide a range of scripts for launching e-commerce sites and shopping carts which include Group buying, Deal aggregator, Micro job site, and online bidding.
We are especially engaged in mobile application development on various platforms like iPhone/iPad, Android, and PhoneGap, PhoneGap, Ionic, Worklife, and Xamarin with the field expertise in cross-platform hybrid mobile app development.
Specifies requirements for an ISO Certified (ISO 9001:2015) Quality Management System where LEMOSYS INFOTECH PVT. LTD. organization
Needs to demonstrate its ability to consistently provide a product that meets customer and applicable statutory and regulatory requirements.
It aims to enhance customer satisfaction through the effective application of the system, including processes for continual improvement of the system and the assurance of conformity to customer and applicable statutory and regulatory requirements.