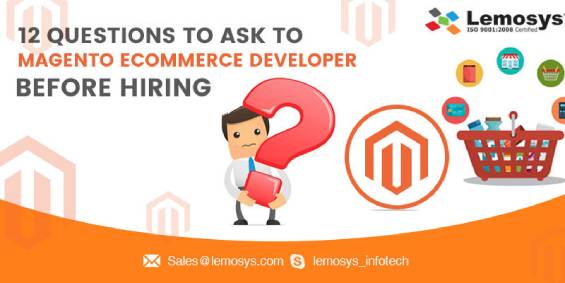 How Magento E-commerce Solution Create Better Online Shopping Experience?
How Magento E-commerce Solution Create Better Online Shopping Experience?
https://www.lemosys.com/blog/wp-content/uploads/2018/09/Hire-Magento-Ecommerce-Developer.jpg
565
283
Blog
Blog
https://www.lemosys.com/blog/wp-content/uploads/2018/09/Hire-Magento-Ecommerce-Developer.jpg
[responsivevoice_button rate="0.9″ pitch="1.2″ volume="0.8″ voice="US English Male" buttontext="Listen to this article now"]
Magento is one of the powerful open source E-commerce platforms to support businesses. This software platform has earned a great reputation of the trusted brands in the world by assisting e shops in a different manner. This helps to create a better shopping experience for the customers reaching to the businesses online.
Online e-commerce business needs a flexible and impressive content management platform. These all requirements can be fulfilled by Magento. According to the recent report, Magento is used by 26% of all the websites running online as e-store and shares 61% of the CMS share in today's market.
There are different Magento development services that prefer working on Magento as it is a user-friendly and feature rich platform. Magento has 2000+ themes, 500+ extensions (out of which, 10 are the top extensions used in 2018) as well as 1500+ modules that can be downloaded.
It is quite interesting to know that Magento aims at cart abandonment with its every updated release. Magento's latest release assists enterprises to decrease the cart abandonment and improves the average value of order. This is all done by integrating new capabilities from the trusted online shopping dealers and sites that speed up the checkout process along with making it more transparent.
Magento Gives Vast Array of Product Details-
In Magento, businesses are free to define any feature of the product they like.
Without compromising in the administrator panel, they can set and manage all the attributes in order to adjust the complete system of the products.
In addition to admin panel, the discount system is also flexible for customers. Magento also provide the facility in an e-store to give benefits to the customers.
This means that if a customer puts 2-3 products from the similar category into the shopping cart, then he/she can get a huge discount. Also, any other added benefits or opportunities for customers.
1. Interface to Online Shoppers-
Really, it is not needed to say that Magento stores have impressive and responsive design to attract visitors worldwide. Magento has almost thousands of customized themes that are available for free and give the benefits of responsive design.
A web store can compete in such a locale productively if it has an appealing and responsive web layout. This provides a sleek and easy to handle interface to shoppers on different devices including smartphones, tablets and PCs.
2. High Security to Consumers–
Magento is a fully-featured e-commerce software solution that provides highly secured payment processing.
It has secure payment bridge for enabling the merchants to attain the compliance of Payment Card Industry along with the strong data encryption.
So, try to work with the certified Magento developers who develop Magento solutions that are highly secured.
3. Enable Faster Checkout Options-
Different options such as PayPal, Simple Pay, Google Checkout and Amazon Payments are offered to the consumers doing shopping from the Magento e-store.
Another option available is "Checkout with Amazon Pay." With Amazon Pay, shoppers are allowed to leverage the payment and address the information that is stored in the Amazon accounts to avoid the typical tasks in the checkout.
Users also gain great advantages from fraud protection offered by Amazon as well as payment guarantee policy for services like subscription, multi-currency and also, cross-board processing.
4. Faster Response Time and Website Speed-
Fast performance websites have proved to deliver better conversion rates and repetitive purchases.
The recently updated Magento version on 2018 May, "Magento 2.2.4" continues to optimize the consumer's shopping experience. It gives 38% faster response time and image loading time for common results of search.
5. Has Viable Shipping Options-
Selection and transparency can be applied to the shipping rates. With the largest online retailers these days working on high expectations and no-cost shipping, online shoppers want competitive pricing options presented in the shopping cart. This is where the shipping options of Magento seem to be useful.
Magento provides easy access multiple carriers and the rates that enable users to get a range of shipping options that meet the shopper's delivery deadlines and budget constraints.
Besides, Magento shipping makes the fulfillment effective and also, improves the business efficiency. This is done by allowing customers to shop for the rates across carriers and set the rules of fulfillment and handle returns; all rights are reserved for Magento Admin.
6. Best Customer Service by Magento-
Business-to-business companies are familiar to operate on relationship based models. They expect the similar level of customer service online.
The below points show Magento enhance the shopping experience of B2B consumers-
Magento based online websites must streamline the approval process of an organization. One way is to automate a few aspects of workflows and another is to mirror the approval process online.
With Magento, it becomes easier for organizations to manage B2B accounts and budget constraints. Account managers should have enough capability to create user roles and assign different degree of access rights.
By automating a few aspects of the purchase procedure, the account managers emphasize to their clients. It helps to improve the customer experience and marketing efforts with personalized service.
Customer Personalization Options-
Customers can get a personalized experience with Magento. Magento enterprise has plenty of features that assist in customizing/personalizing the user's experience.
When a consumer returns to quick look at more products, they are accessible with a personalized outlook of the products in which there are interested.
This process is managed through dynamic segmentation and the access to products is based on customer's behavior over previous risks.
Magento Is Leading the Way Forward
There are almost 40% of Magento Enterprise Edition patrons who make use of Magento platform for B2B interaction across the world.
Most of the business owners continue to invest in Magento like e-commerce development to experience the ability and power of the open ecosystem to drive sale.