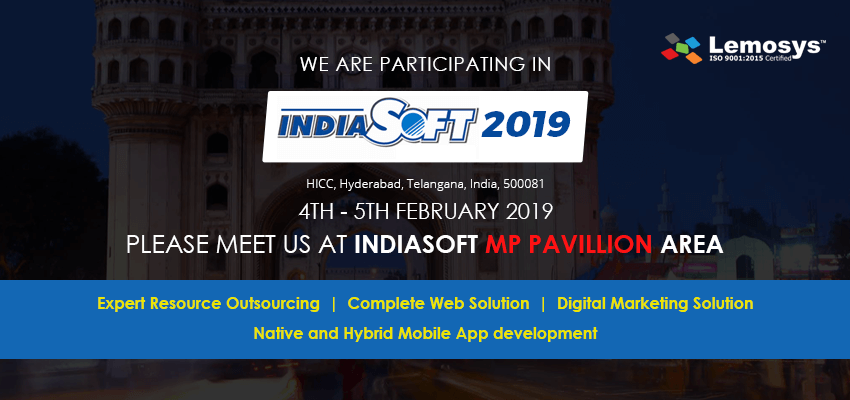 We Are Glad To Announce Our Presence In The Upcoming INDIASOFT 2019 IT Event
We Are Glad To Announce Our Presence In The Upcoming INDIASOFT 2019 IT Event
https://www.lemosys.com/blog/wp-content/uploads/2019/01/INDIASOFT-2019-IT-Event-Lemosys-Infotech.png
850
400
Blog
Blog
https://www.lemosys.com/blog/wp-content/uploads/2019/01/INDIASOFT-2019-IT-Event-Lemosys-Infotech.png
The ESC (Electronics and Computer Software Export Promotion Council) is organizing the 19th edition of INDIASOFT series, called INDIASOFT 2019. Around 250+ Indian IT companies will be displaying a world of innovations and plus 400. IT buyers from over 70 countries are expected to visit INDIASOFT 2019 to forge business alliances, market tie-ups, etc.
This year the INDIASOFT 2019 IT Event will take place on February 4th and 5th, 2019 at HICC, Hyderabad, Telangana, India. Visit LEMOSYS INFOTECH PVT. LTD.
We are at Lemosys Infotech, An ISO Certified Company having their operations in India and Unites States, a company was formed in 2007 with an aims to be the highest quality software development company in the world for excellent services and delivering standard value to customers, employees and our associates. Lemosys Infotech is the best IT Company in Asia. Our company has reached the best world-class practice in the field of web and mobile applications services. You can hire our expert's designer and developer team.
Lemosys provide an array of solutions for all industry verticals including enterprises, healthcare, retail, e-governance, and education. Our solutions and products include CRM, ERP, POS, Project management and collaboration, Employee performance management, Loyalty Programs, Channel management, Patient appointment scheduling, e-learning solutions and much more. We provide cloud computing services to save your time and money.
You can highly enhance your ideas & convert it into a successful business model with our efforts by:
You can also start your business with our top products (Ready To Use):
Restaurant App House
Call 2 Queue
Taxi
Financial Stock Advisory
Service Provider (SAYDS)
Community (Masjid )
Pharmacy
Matrimonial
Check our entire solutions and products portfolio here mobile app and website portfolio
For better connecting your business ideas with the latest technology & our resource, you need to meet us.
Visit Us At
MP Pavillion Area