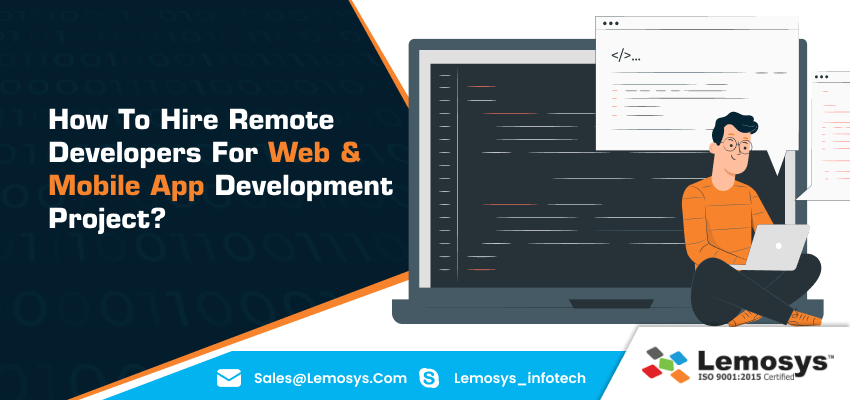 Process To Hire Remote Developers For Web & Mobile Development Projects
Process To Hire Remote Developers For Web & Mobile Development Projects
https://www.lemosys.com/blog/wp-content/uploads/2021/05/Hire-Remote-Developers-Lemosys.png
850
400
Blog
Blog
https://www.lemosys.com/blog/wp-content/uploads/2021/05/Hire-Remote-Developers-Lemosys.png
Steps To Hire Remote Developers For Your Web & Mobile App Development 
Safety is on priority, In today's COVID-19 pandemic scenario everyone is facing health and humanitarian crises. Most companies have adapted to the situation to safeguard their health and find new ways to make sure business & financial continuity. We have to change or reimagine our working culture. In the global marking "Remote Work" is now more EMERGING
Most companies used to offer the ability to work from home as a perk, it has now become the norm for most businesses. By 2025, an estimated 70% of the workforce will be working remotely at least five days a month. While 2020 may be considered the year of remote work, it is just the beginning as we see the trend continuing in 2021.
Hiring remote developers is one such way to ensure continuous development, scalability, and better business growth.
If you have plans to develop or launch a web & mobile app, it is important to hire dedicated remote developers. Highly skilled and professional developers play an important role in the success of your project.
What are the Advantages to Hire Remote Developers for Your Project?
Continuous Development
Offshore dedicated expert development teams work in different time zones, giving your project or business continuous and much-needed development support when it is required. This ensures that you have a quicker time getting a response from the market. While it might not be possible to deploy an in-house team that works fixed time or round-the-clock, It's possible to hire remote developers offering continuous development support, integration, maintenance/testing, and strategic support related to deployment. Regular meetings & discussions with remote teams with overlapping schedules will help meet development and instantly solve the technical glitches or bugs.
Scalability Boost
Hiring remote developers provides quick scalability to businesses with relatively very low risks and overhead costs. With remote developers, you can hire experts with a specific background in niche technologies to bridge skills deficits.
A highly dedicated team of developers can manage a suite of tasks ranging from web or mobile app development, custom web development, theme customization/development, plugin/extension development, or a new native or hybrid mobile app.
Access Global Talent
A dedicated development team involved agile workability to learning new technologies in the tech world and constantly upgrading skills to meet various project needs. The dedicated remote team also solves these problems by adopting change and allowing the creation and implementation of innovative latest training programs or tutorials.
Whenever you hire remote web or mobile app developers, you can multiply business productivity with access to skilled talent and re-align resources to activities related to continuous revenue generation.
Process & Steps of Hiring an Offshore Development Team for Your Project
Web or Mobile App Project Requirements
You should have proper project requirements. It's clear to identify the right specific talent or expertise for your project. The most important step is to share accurate information and flow about the project, features, specifications, and level of expertise, and to attract remote developers.
Remote Developer Portfolio
Should evaluate the ratio of completed projects, work feedback, and platforms. Also, try to understand their roles & responsibility in the development process.
The role was about senior developers or it was all about completing the project single-handedly, answers to these questions will let you know the depth of the experience. Equally most important is to know about domain niche expertise and the ability to work on complex projects.
Interview
During your first round of interviews with a remote developer, know the work culture and expertise values. This is a crucial standard that is lead to successful remote team players. It is the values, passion for work, and acumen that will make a dedicated remote team of developers a strength.
Questions for a remote developer:
Do you have any experience in a remote position?
What challenges are you facing? What wins – big or small did you have previous projects?
Familiarity with project management tools, calendars, and task management apps?
What is your strategy to overcome problems in web or mobile app development projects?
What skill would you like to develop or improve?
Technical Screening / Test
When you are hiring remote resources for a technical project, it is very challenging to conduct a technical round of interviews to evaluate a candidate's technical knowledge. Some Technical assessment tools help you to save time and money by selecting the most suitable candidates. You can assign a trial phase project to check the coding, problem-solving, analytical, and logical thinking skills of developers.
How To Enhance Remote Developer Productivity?
Create daily task plans and schedules of its priority.
Use automation tools & Technologies to simplify processes and real-time collaboration
Use Project Collaboration (Management) tools to improve communication & streamline workflow.
Strike the right balance between work and life
Increase information and feedback sharing to minimize bugs.
Project & Data Security
Sign an NDA with your remote development team to protect business information.
Set up 2-factor authentication systems, as well as virtual private networks.
Establish a proper security infrastructure to minimize security breaches.
Set expectations to ensure that remote developers maintain security standards.
Why Hire Remote Developers From Lemosys?
Lemosys Infotech is an ISO Certified Company having their operations in India and United States, a company was formed in 2007 to be the highest quality software development company in the world for excellent services and delivering standard value to customers, employees, and our associates. Lemosys Infotech the best IT Company in Asia. Our company has reached the best world-class practice in the field of web and mobile applications services. You can hire our expert designer and developer team.
Web designing and development being the main company activity, we are also involved in web application development. We provide a range of scripts for launching e-commerce sites and shopping carts which include Group buying, Deal aggregator, Micro job site, and online bidding.
We are especially engaged in mobile application development on various platforms like iPhone/iPad, Android, PhoneGap, PhoneGap, Ionic, Worklife, and Xamarin with field expertise in cross-platform hybrid mobile app development.
We provide Digital Internet Marketing services that include SEO and SEM. Our internet marketing strategy is one of the best methods or White Hat Technique according to Google Algorithms. We used to get the desired results in various SERPs. Our SEO expert analyzes the lead generation process in such a way that the user can get advertised on mobile/iPad/Internet in effective ways.
Provide an array of solutions for all industry verticals including enterprises, healthcare, retail, e-governance, and education. Our solutions and products include CRM, ERP, POS, Project management and collaboration, Employee performance management, Loyalty Programs, Channel management, Patient appointment scheduling, e-learning solutions, and much more. We provide cloud computing services to save time and money.
Steps to Hire Remote Developers

Send an Inquiry: Simply send us an inquiry, providing information about your web development or mobile app development project requirement, as well as your objectives.
Discuss Project Requirements: Our business analyst will provide technical feasibility and analysis of your project workflow & estimation.
Start Work: Sign the agreement and a dedicated developer begins work on your web design, development, or mobile app development project.
Delivery: Delivering quality work on time is most important for business growth Check all the work status according to project requirements.
Scale a Team: Expand your team based on your development needs.
Hire Remote Developers, We Provide