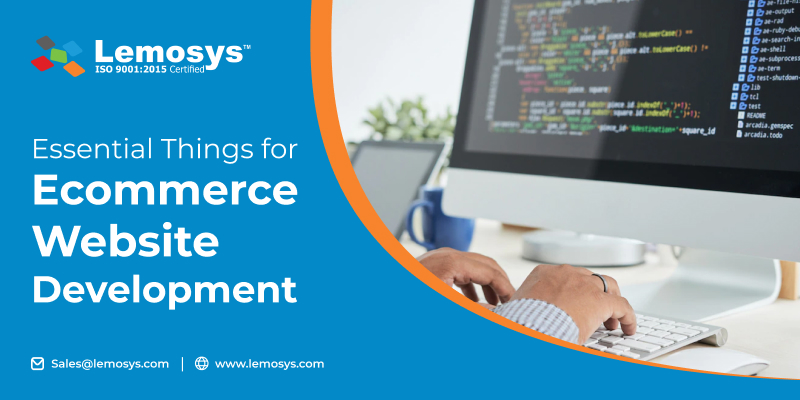 Essential Things for Ecommerce Website Development
Essential Things for Ecommerce Website Development
https://www.lemosys.com/blog/wp-content/uploads/2015/12/blog14.jpg
800
400
Blog
Blog
https://www.lemosys.com/blog/wp-content/uploads/2015/12/blog14.jpg
Now a day's Ecommerce Website Development is increasing day by day, And most business owners in developing their business websites for online earnings. and really eCommerce platform is good for business or self employee .but think is that many eCommerce websites online available but not perfect. If you are also planning about eCommerce business development so, don't worry about it, This blog post is completely on website development for eCommerce.
What is required for eCommerce website development?
Domain Name-
Starting of Ecommerce development domain name is the first thing for anyone, it should be simple and specific. Anybody can easily remember or represent your business like some famous brand Flipkart DSTLD jeans. adidas, Amazon, snap deal, and many more. The entire brand name is simple and showers and represents their business.
Clear Logo Design-
Logo design is an essential part of any website .but when talking about an eCommerce website so it's more important. Because business logos are intended to be the "face" of a company: They are graphical displays of a company's unique identity. Color, and brand specification .each and every website have own logo with copyright. Use the specific size of logo, good color combination, simple and shower.
URL Optimization –
Thousands of product/internal pages on a business website. all product URLs with an individual name. Don't use spatial characters, symbols, and default page ids. Like if your website is related to shoes www.shoes.com, specify your website product with the proper brand name and category –male or female.
www.lemosys.com/magento-certified-developer/. Google also gives priority to these things. It's also a mandatory part of any website.
Brand & Products Specification-
At present time all people are very habitual of online shopping. But all customers are very smart and clever. They shop online but shop with that website which is perfect in services and shipping, taking a branded accessory, product specification, product price range, and choice of product. It's everyday things in one customer that time they purchase online.
Shopping Cart, Login Box, and Search Box–
 These are the three boxes Shopping Cart, Login Box, and Search Box must be available on every product-based website. When a user first comes to a website they sign up for shopping and if a customer comes in seconds times login box is required to reconnect .and third one is the search box some users find more choices of products .that time required search box for find any kind of product online.
Deals with free shipping-
Most people are very greedy for online deals with free shipping. and they are always searching good business websites for huge discounts and deals. You are building and business website so think about this because this is part of the online conversion rate. add insert coupons and deals in your main product and accessories and must mention your term and conditions.
Contact detail and customer support-
For One product-based website contact detail and customer support is a mandatory parts. The reason behind this-online users trust this after purchasing any kind of issue /problem in the product so that time customer replaces their product through contact detail, online phone number, and chat support.
Payment option-
Online transactions it's very an essential thing for business website development. eCommerce websites deal with many customers from all over the world and they each have their own preferred payment system. Your eCommerce website payment and transaction option should be secure with proper guidelines.
are you looking expert eCommerce website developer and designer for your business? and If you want to create a unique and profitable website and robust website for your business, so  Hire a dedicated eCommerce developer at lemosys with an affordable budget.