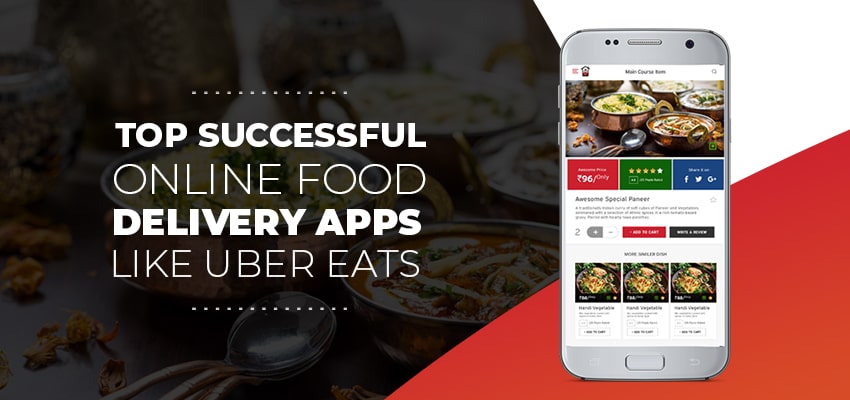 Top 10 Amazing Food Delivery Apps Like Uber Eats
Top 10 Amazing Food Delivery Apps Like Uber Eats
https://www.lemosys.com/blog/wp-content/uploads/2019/09/Apps-Like-Uber-Eats.jpg
850
400
Blog
Blog
https://www.lemosys.com/blog/wp-content/uploads/2019/09/Apps-Like-Uber-Eats.jpg
It's a holiday & if you want to have some tasty and fresh food for yourself then what will you do? Will you go to the kitchen & prepare the food? NO! It's the 21st century. Tasty food is just some clicks away from you. There are too many apps like uber eats but in this case study, we choose the top 10 best food ordering apps.
You only need to follow the steps mentioned below:
Pick up your phone and order food from any of the top-rated restaurants
Simply provide your local address, and apps will show you top-rated restaurants that accept an order in your area that you can try without ever leaving your home.
Select the desired food from the menu list
Add coupon codes to avail discounts on food/restaurants (as per the availability)
Select the Payment method and confirm the order
Track your order with the live tracking feature
Get delivered delicious food and enjoy it with your family, friends, or relatives.
It is really easy to order food because apps like Uber Eats, Zomato, Swiggy & others have some great offers for their customers that you can't ignore. To know the best app and how they work, we at LEMOSYS have done some research on these apps like uber eats in which we have categorized them according to their best features through which they attract their customers and the number of downloads on the android platform.
Have a look at the top 10 apps like uber eats which have been rounded up from the best online food delivery apps that will bring tasty food straight to your doorstep:
Zomato, an online food ordering app where you can search for restaurants and see their interior images listed by their customers on this platform, was founded by the name 'Foodiebay' in 2008. The company increases its features by adding food ordering and delivery features in the metro cities of the world. It includes information like menus, and user reviews of restaurants, and also has food delivery options from partner restaurants in select cities. Zomato is now available in nearly 25 countries all over the world including India, Australia, and the United States.
It works as a social network like Twitter or Facebook for foodies.
In this app, they have a feature where you can follow users or your friend's feedback/reviews & can read it which they have given on profiles of restaurants.
You can Check the Restaurants Reviews
Many restaurants that were not available for online delivery were also listed On ZOMATO so customers can check their menu, Images & Reviews
The GrubHub app was launched in early 2004, which allowed the company to set up a     partnership and build relationships with various restaurants. All the orders are managed by the company's customer service teams. The company's web and mobile app ordering applications allow diners to order from restaurants in over 2,400 U.S. cities and London. Grubhub has acquired brands including, LevelUp, Tapingo, Seamless, and MenuPages Grubhub, AllMenus
It provides a feature to find your desired food or search through the list of restaurants located in your area
You can apply a filter or short your order according to customer feedback, coupons, offers, and as per your working hours or time, you want to have food.
You can even save your order details to your top picks for future orders as well.
Swiggy app was launched in early 2004 With over 10,000,000+ downloads in the play store, Swiggy is rated as the No. 1 online food ordering app in India. Its services provide customers an offer or features from the local area of the restaurant with no minimum order and receive an amount from all nearby hotels this app is collaborating with. The main reason for the popularity of Swiggy is its strong delivery network that ensures quick delivery of your orders. It also provides live tracking of  your food
Swiggy is rated as the best food delivery app in top cities in India.
The customer gets timely deliveries and real-time tracking of their orders booked
Swiggy does not have a minimum order policy accepting online payments
DoorDash Inc. is a San Francisco–based on-demand food delivery service founded in 2013 DoorDash is one of the most popular established food delivery apps. It supports over 300 cities in 32 markets. The app offers food order services in Canada & its cities including Toronto, Edmonton, Vancouver, and the in UnitedStates of America & cities are Atlanta, Seattle, New York, and Chicago. The service also brags of a Yum score on restaurants.
The app includes features like "DoorDash Delight" which has a scoring system based on food quality or restaurant popularity.
DoorDash provides a variety of casual drinks, real-time order tracking and fast delivery speed, exceeding expectations in testing, are pricing.
Easy ordering from any of the restaurants
Faasos is an Indian "food on demand" company that was incorporated in 2011. It offers food from the kitchen. They have a menu linked with restaurants where you get so many varieties of food to order. From breakfast to lunch, coffee or dinner, it has everything you can find tasty. You can even choose the food according to your interests &  you can order it in multiple ways to get the food made you like it.
It is a perfect example of an offline chain that went online,
Faasos have their kitchen with expert chefs
It has an offer varied daily changing menu which comprises Tasty Foods
Just Eat was founded in 2001 in Europe. The main feature which is used by the user is its search tool for all the restaurants that deliver food. It operates in 13 countries & acts as a link between independent food outlets and a user who orders the food
Just Eat have 21.5M customers, out of which 11M are active customers
This App has managed the order more than 170M takeaways everywhere around the world.
The Just Eat delivery app includes features like users can filter the menu as per food choices and you can pay via card or COD.
POSTMATES started its work in 2011. It is an American logistics company that operates a network of couriers who deliver goods locally. This App helps you to order food from a popular restaurant chain in your local area and bring it right to you with a fast location-based Information
Delivers food, drinks, and groceries.
Wider delivery areas than competitors.
Track your delivery with a fast response.
Delivery.com LLC was founded in 1995. It is a mobile app that delivers food from restaurants around your local area. What you have to do is Just enter your local address to see restaurants around you and use the feature to filter by food according to your choice, read reviews, & track the location in the shortest time it will take to deliver.
Delivery.com will suggest popular restaurants and restaurants near your address.
 Check Delivery.com ratings on Yelp or high rated business listing which provides ratings, so you can sift through the chaff.
With every order, you'll earn points that you can redeem on future orders.
And you will also get the benefits of exclusive mobile app-only discounts and promotions.
Caviar was founded in 2012. The main features of this app are that you can order menu items from a wide variety of restaurants, quickly and efficiently. You can also order pick up from a restaurant. With that, you can browse all the restaurants near you & track the location just by enabling the location
High-end restaurant meal delivery service.
Accurate delivery time estimates.
Issues periodic promo codes.
Ordering from BeyondMenu is easy. Simply add food items to your cart, and then choose the delivery location afterward choose payment type and place your order. But if you choose to pay by credit card, you won't even have to input your credit card info. You can just scan it in with your phone's camera.
BeyondMenu allows customers to book a table for a  meal.
It enables you to search restaurants, order pickup and delivery, and make reservations at restaurants near you.
As you can see, there are other apps like uber eats that have the same or a little bit more features through which you can choose to get delivered food just about anything you want. So, if you have any queries about the food ordering app like how uber eats works, or how to build a food ordering mobile app you can contact us with your exact requirements here and let you know the estimate.
LEMOSYS is continuously striving to provide quality work by taking feedback on delivered work. We have a great and successful experience in developing and designing the food ordering apps like uber eats (RESTAURANTS APP HOUSE) or as per the custom requirements given by the clients. We are very sound in using the latest technology( Ionic, React Native, Flutter, etc.) for the mobile app.
You will have a great choice if you are opting for Lemosys Infotech for your Mobile App Development. We are a team of skilled, expert developers and designers.
Are you looking for any Food Ordering Apps like uber eats or solutions to any kind of IT requirement? If yes, we would be happy to assist you with real-time solutions and custom features. We would like to share the details about our developed food ordering app i.e. RESTAURANTS APP HOUSE which has the same functions as the above apps. Most of our international clients and techies are using restaurant app houses and sharing their experiences, feedback, suggestions, and challenges with us. We feel very appreciated for assisting them in every possible manner with an exact solution. Check our portfolio of mobile apps.
We have developed similar apps like uber eats mentioned above for our clients across the world. If you are interested then give us a call or drop a message. We will be happy to assist you with a perfect solution. We would love to collaborate with you on your ideas/ suggestions or feedback. Don't hesitate to drop your detailed inquiry about the mobile app on sales@lemosys.com. Our sales team will get back to you ASAP.