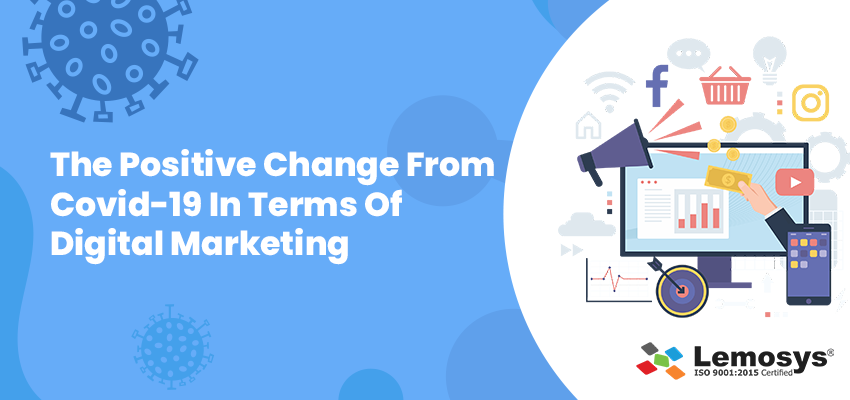 The Positive Change From Covid-19 In Terms Of Digital Marketing
The Positive Change From Covid-19 In Terms Of Digital Marketing
https://www.lemosys.com/blog/wp-content/uploads/2020/08/Digital-Marketing.png
850
400
Blog
Blog
https://www.lemosys.com/blog/wp-content/uploads/2020/08/Digital-Marketing.png
The Positive Change From Covid-19 In Terms Of Digital Marketing
Most of us have felt the massive impact of COVID-19 both at a personal and professional level. In our personal lives, it has totally changed the way we interact with our neighbors, how we shop, and a horde of other social conduct norms. In our professional lives, we now have to follow these public health guidelines to protect our colleagues and our clients.
Many businesses, especially in the hospitality, recreation, food, and retail sector, have either closed down or are struggling to stay afloat. Despite all the negative consequences the pandemic has had on various industries, it has brought some positive impacts on the digital marketing scene. Keep reading to discover some of the positive changes from COVID-19 that online sellers and eCommerce businesses can exploit.
    Lower Cost of Paid Social Media  and Search Ads
Millions of people are gravitating toward social media to remain connected with their loved ones, friends, and coworkers during the quarantine. In fact, data from GlobalWebIndex shows that social media usage has increased by 15 percent among boomers, 29 percent among Gen X, 30 percent among Millennials, and 27 percent among Gen Z. 
A recent report from Facebook, on the other hand, shows a 70 percent uptick in the usage of its suite of applications since the pandemic began. This, coupled with a reduced battle for ad space, has led Facebook to lower its advertising costs across its advertising portfolio. With cost-friendly ads and many people still shopping online, it's important for you to ensure your eCommerce business is meeting the unique needs and demands of your customers.
The advertising platforms are also adapting to the changes in the ads space at a fast-paced rate. For instance, Facebook and Google are performing a thorough review of not only all new ads but also all ad copy adjustments to help them deal with companies that are looking to capitalize on the COVID-19 situation and address the issues of fake news around this global crisis. This move will significantly reduce the speed of the ad review process, so make ad changes as minimal as possible. Also, consider partnering with a good remote interpreting company to generate ads that resonate with your overseas customers.
   

A Surge in User-generated Content (UGC)
 With people stuck at home and with a lot of free time at their disposal, most of them have turned to generate digital content on a large scale. Online sellers and eCommerce brands can take advantage of this situation to hire competent digital workers who can come up with content that fits their brand story. Brands looking to carve out a top position in their respective niches can do so by populating their digital platforms with authentic and compelling content. Above all, online businesses that manage to strike a perfect balance between boosting sales and being empathetic in this COVID-19 period will realize more benefits in the long term.
   

Increased Digital Media Consumption
As people take a break from their work responsibilities and turn to social media and movie-streaming sites for their daily news fix and entertainment, it's evident that all attention now is digital. Consumers have significantly reduced their consumption of traditional media channels, which means there is a great opportunity for attractively-priced attention on digital channels. You can increase the visibility of your eCommerce business by capitalizing on the easy and underpriced attention that the current digital media moment has to offer.
    Major Shifts in Consumer Behavior
Widespread consciousness and stay-at-home requirements have resulted in significant disruptions in the everyday behavior of consumers around the globe. According to Pew Research Center, 9 out of 10 American adults say the COVID-19 outbreak has changed their lives at least a bit, with 44 percent saying their life has significantly changed. When considering the ideal strategy for responding to the pandemic, online businesses should go back to the drawing board. They should investigate how their consumers are spending their time and the sites they are visiting. An exhaustive understanding of these changes in consumer habits will unravel immense opportunities for brands to continue engaging their client consistently and generate targeted long-term rewards.
Digital Marketing Recommendations
What strategies can help you tone down risks and generate opportunities for your eCommerce?
Here are 5 helpful recommendations.
Be sure to examine all aspects of your business health, from revenue trends to website traffic. This information will give you a clear picture of how the pandemic is affecting your business.
Evaluate Your Brand's Value
Consumers are constantly looking for brands that can address their unique needs. Knowing what these needs are and the role your business can play in meeting them can help you adjust your strategies accordingly. For instance, during such hard economic times, you can offer steep discounts to increase sales rather than maintain the same prices and generate little to no revenue at all. Businesses that create chances for consumers to try new stuff like temporary loyalty discounts stand a better chance of attracting full-price customers in the long term.
Examine and Analyze Your Messaging
Evaluate messaging that's getting impressive results on your website and paid advertising platforms. Modify your message to fit into where you're realizing positive traction. If you don't have in-demand products in stock, there's no need of promoting them through shopping or search campaigns. Keep in mind that testing different forms of messaging is one of the most effective ways of identifying opportunities to grow your business. Consider working with a remote interpreting service to help you deliver accurate messages to your global customers in their native languages.
Get the most out of Shift in Media Consumption Habits
As mentioned earlier, media consumption is shifting as more people change their day-to-day activities. Consider altering your media channel mix to match the many opportunities that digital media has to offer. Explore strategies and digital platforms that can help you recruit new customers and retain the existing ones. More importantly, assess your paid media's margins of profitability. If you're making little to no profits, think about adjusting your messaging strategy.
Final thought
Digital Marketing is turning out to be extremely important because of a rapidly expanding group of digitally-savvy consumers emerging from the COVID-19 crisis. Businesses should focus on creating and implementing well-thought digital marketing strategies that will speed up growth both during and after the pandemic.