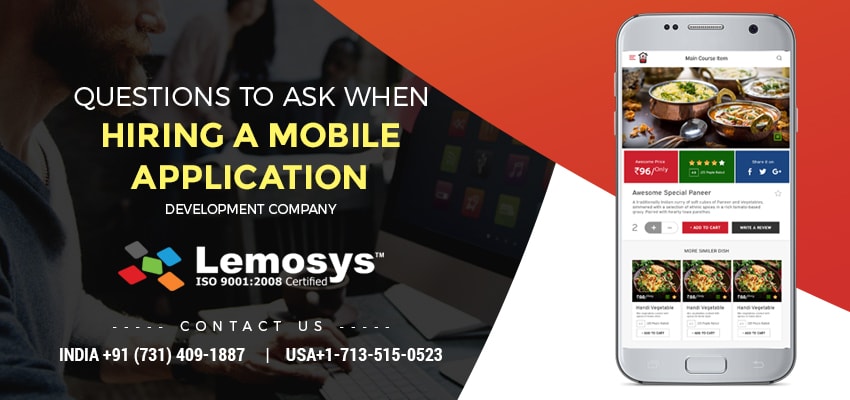 What Things Need To Look When Hiring A Mobile App Development Company?
What Things Need To Look When Hiring A Mobile App Development Company?
https://www.lemosys.com/blog/wp-content/uploads/2018/01/mobile-app-development.jpg
850
400
Blog
Blog
https://www.lemosys.com/blog/wp-content/uploads/2018/01/mobile-app-development.jpg
It can't be denied that mobile applications have changed the way businesses are flourishing and engaging customers on a large base. And, the Chances are that you may not have the essential skills needed for mobile app development or the sufficient time to sit down and work for it. You possibly know nothing or a little about how to develop mobile applications. Let's have a closer look at trusted and experienced mobile application Development Company India that develops amazing mobile applications running on different platforms.
But, have you ever thought about how to find which one is the best mobile app development company? Because there are a big bunch of development companies offering the services of mobile app development services at truly unmatched prices. For this, you should think about certain things prior you approach any mobile app development company in India.
Consider 7 Things Before Selecting an App Development Company
Team of innovative and creative mobile app developers-
The most important aspect prior you hire any mobile app development company is to recognize how many innovative and creative mobile app developers are working there. Also, check how experts they are in developing applications.
Features of the already developed applications-
Learn about the features of already developed native Android or iOS applications built by them. This way you can estimate how unique your application will be after development.
Use of any application framework and coding standards-
Always try to find the firm that works on the latest and upgraded frameworks for making a unique mobile application. In addition to the application framework, coding standards also hold a vital place for great application development without any bug.
Number of live applications developed-
Seek one such mobile app developers who launch applications in a few months. You can depict the number of live applications and analyze their quality either in the Google play store if it's an Android application or in iTunes, if it's an iOS application.
Developed application running on what platforms-
What if the company you are going to appoint only works on either of the platforms Android or iOS? The chances maybe you choose the wrong company. So, it is good to ask them- on what platforms their developed applications are running and how effective these applications are?
Effective marketing strategy-
It is truly effective to receive a huge response when you release your unique mobile app. But, it requires marketing to be initialized at the right time. So, it is required to be familiar with the marketing strategies of the company. This helps you to know the way the particular company attracts the customers towards it.
Measure Clients feedback-
Measuring the client's feedback let you determine the application work delivered by the company meets the client's expectation or not. This way you even get to know whether the company is capable enough to fix the bugs or not if some problem arises with an application after deployment.
Apart from these fundamental things to be taken into consideration for mobile application development company India, you should also focus on the online reputation and experience of the company in application development along with the affordable costs for the services.
Among various mobile application development companies in India these days, you can rely on the fastest-growing application development company- Lemosys Infotech. Lemosys is a big name in the IT world when it comes to mobile application development. The company has a well-versed team of mobile app developers who develops high-end and fully functional mobile applications as per the client's requirement. Furthermore, they deploy the application on or before the deadline along with great quality in their work.