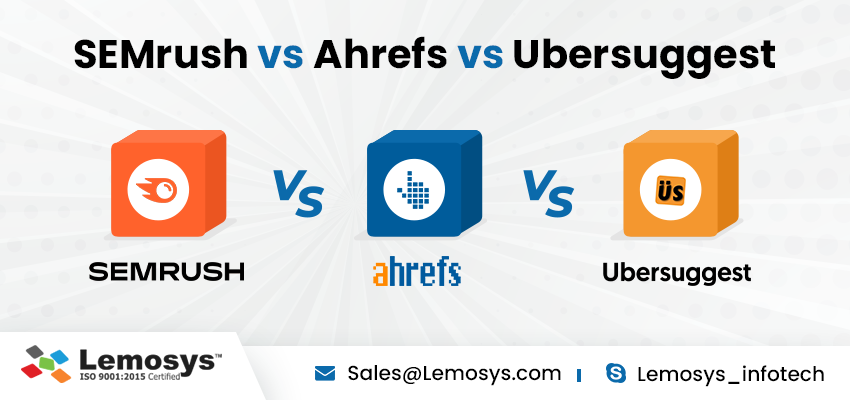 SEMrush vs Ahrefs vs Ubersuggest Which SEO Tool is Better
SEMrush vs Ahrefs vs Ubersuggest Which SEO Tool is Better
https://www.lemosys.com/blog/wp-content/uploads/2022/03/post.png
850
400
Blog
Blog
https://www.lemosys.com/blog/wp-content/uploads/2022/03/post.png
The Comparison: SEMrush vs Ahrefs vs Ubersuggest
Let's take a look at how SEMrush vs Ahrefs vs Ubersuggest compares in terms of simplicity of use. Ahrefs and SEMrush both have a learning curve, and it may take a few days before you can fully utilize them. Ubersuggest, on the other hand, does not necessitate any prior knowledge of the tool.
A Quick Overview 
Ahrefs, SEMrush, and Ubersuggest are all-in-one SEO tools that allow you to find the best keywords for your website, conduct a site audit, perform backlink analysis, and study your competitors. 
Starting as a link checker, Ahrefs has added tons of new SEO-related features over the last few years. From finding keywords for different search engines to estimating the traffic value, you can better optimize your SEO strategy using Ahrefs.
SEMrush is more of a marketing tool. With SEMrush, you can analyze your SEO performance, improve PPC campaigns, spy on your competitors, and manage your social accounts. Ubersuggest, on the other hand, provides a 360-degree view of your website's SEO.
SEMrush
SEMrush provides an all-in-one suite of tools to optimize your website for search engines and rank higher than your competitors. The platform offers a spectrum of features, such as competitive research, link building, and rank tracking (among others), but in this guide, we'll focus on a few of its essential tools. 
SEMrush's Keyword Magic Tool gives you a huge amount of keyword suggestions to help you find the right keywords to target for your SEO and marketing campaigns. The total number of keywords in their Keyword Magic tool now exceeds 20 billion.
Ahrefs
Ahrefs is an SEO tool that offers features to help you with your keyword research, content marketing strategies, backlink analysis, and others. The tool gives you boatloads of keyword insights and ideas, including the search volume, keyword difficulty, organic clicks, pay-per-click (PPC) data, and others. 
You'll also see the Parent Topic feature, which helps you assess if you can rank for your target keyword while targeting a more general topic on your page. For instance, if you're targeting "backpacks for kids," the parent topic suggests keywords out of more popular queries to help you rank higher in SERPs, such as kids backpacks. This helps you find the best keywords to target to optimize your web pages for maximum search traffic potential and improve your ranking. 
Ubersuggest
Ubersuggest, you can see here that the main dashboard is quite clean and very easy to follow, even if you are new to SEO. With most SEO tools, you're usually bombarded with way too many charts and options all at the same time. With Ubersuggest, you get a nice and simple user experience while all of the various tools and functions are neatly organized and accessible via the left navigation bar.
It includes the monthly search volume, SEO difficulty, paid difficulty, and CPC. To increase your possibility of ranking on the first page of SERPs, choose the keywords with an SEO difficulty of less than 40. As you scroll down, it displays how many people click on SEO results and the age group of searchers'. This insight is essential if you wish to target a specific group of people. It also shows related keywords, question keywords, prepositions, and comparisons.
Pricing Comparison
Do you want to know how much money you'll have to spend each month to have access to these tools? Let's compare the prices of Ahrefs, SEMrush, and Ubersuggest.
| Ideal For | Ahrefs | SEMrush | Ubersuggest |
| --- | --- | --- | --- |
| Individuals | $99 | $0 | $0 |
| Freelancers and startups | $179 | $99.95 | $29 |
| SMB and growing marketing agencies | $399 | $199.95 | $49 |
| Large businesses | $999 | $399.95 | $99 |
Conclusion
As you can see, Ubersuggest is the clear winner in the Ahrefs vs SEMrush vs Ubersuggest comparison. Being a digital marketing consultant, I recommend Ubersuggest as the better SEO tool as it's a free tool, and the premium version's price is reasonable when compared to the other two.