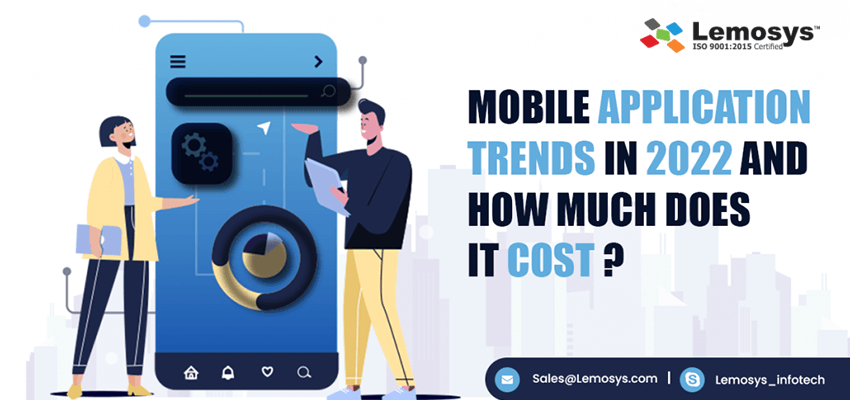 Mobile Application Trends in 2023 and How Much Does it Cost ?
Mobile Application Trends in 2023 and How Much Does it Cost ?
https://www.lemosys.com/blog/wp-content/uploads/2022/02/Mobile-Application-Trends-2022.png
850
400
Blog
Blog
https://www.lemosys.com/blog/wp-content/uploads/2022/02/Mobile-Application-Trends-2022.png
The Mobile App Development Industry is very advanced and will be even more advanced than in the previous few years. Not only can you order food or make appointments from apps, but you can also call an emergency number, lock your home or turn on the security system, and even monitor your own health!
These 4 mobile app development trends are what many people like Elon Musk are talking about.
Artificial Intelligence (AI Learning)
Internet of Things With Applications
IoT Influences Mobile App Technology
Wearable Devices With Apps
Think of any product or service that you've recently purchased, a smart TV, a cell phone, or even a car, there are several elements that decide its final price. The same goes for mobile apps.
Everything has a price tag, but that's not always the case with Mobile App Development. There is no fixed price when it comes to developing a fully functional mobile app.
The answer to "how much does it cost to build an app?" depends on a great number of factors. Nevertheless, you get what you pay for.
What are the factors that affect the actual cost of mobile application development?
Here are some factors that determine the cost of a custom mobile app:
5 Factors that are Set On Mobile App Development Cost
Application development partner (freelancer/development company)
Features & complexity
Platform (Android or iOS)
Location of the development partner
Design complexity
Application Development Partner (Freelancer or Development Company)
It is very important to choose the right type of development partner. You can hire Freelance App Developers or an App Development Company to build your app.
The options mentioned above are not bad. However, there are advantages of hiring an App Development Agency over Freelancer App Developers. The best part and the benefit of hiring Freelance Developers is that it is affordable. You can find Freelancers who can develop your app for as low as $20 per hour.
There are online platforms like Freelancer.com or Upwork.com, where you can find Freelance App Developers.
Furthermore, Every advantage has a disadvantage. Unfortunately, there are some disadvantages to hiring freelancers. Why are there disadvantages in hiring Freelancers? It's because building an app isn't just limited to writing hundreds of lines of code.
There are a lot of things such as design, UX, and UI, that need to be looked at as well.
If you made up your mind to hire freelancers, then you'll need to find different freelancers for different aspects of your project. You might also need to manage the team yourself.
Yes, With freelancers, it is affordable and you will be saving money, but the downside is that you won't receive high-quality work and possibly on-time delivery. Moreover, Freelancers can be notoriously flaky and even unreliable Conversely, an App Development Company can provide you with benefits.
Here are the advantages of working with a Mobile App Development Agency:
Quality assurance
All-inclusive services
Accountability
Deep involvement
Efficient project management
Ease of communication
The Development Firm will cost more than Freelancers. However, they will produce higher quality and faster results in a timely manner. That is why it is very important to carefully select the route that you want to take. Size of Your Development Team to Build an App The size of your development team depends on the project you have. Complex applications MUST be handled by a COMMITTED team of developers, the simpler apps should be done by the team as well.
A typical development team includes:
Project Manager
QA Engineer
UI/UX Designer
Programmer
Extended Development Team Includes:
Project Manager
QA Engineer
System Administrator
Two UI/UX Designers
An Extra Developer
Cost to Build an App Based on the Key Features & Complexities. Did you know that it takes over 3 to 6 months to develop a mobile app. More complex apps may even take up to 8-12 months to develop! So now you may be asking yourselves a simple question.
Why does app development take up so much time?
Well, the simple answer to that question is that it's mainly based on what features you want to include in your Mobile App. The usual features of most apps are registration & sign-in, primary navigation, and push notifications.
These features typically do not take a lot of time at all. On the other hand, when you include features such as online streaming, add-to-cart, offline mode, and credit card payments, it takes a lot more time.
App Development Cost for Each Phase
There are SIX KEY PHASES in order to develop an efficient app. No matter the size or objective of the mobile app, the phases are still the same.
Business Analysis
App Development
Project Management
UI/UX Design
App Testing
Support & Maintenance
Business Analysis
Regardless of how good the Mobile App may be, the initial idea has to go through Market Analysis, it will need some verifications & requirements, and documentation.
The usual cost for the Business Analysis Phase could cost between $1,100 to $11,500 in a span of 2-4 weeks.
UI/UX Design
You hear it all the time, "First impressions are everything!" In this case, first impressions are ESSENTIAL. For your app, you will need an amazing UI/UX Design to create a flawless first impression.
Your design should be something that appeals to your audience & users. With that being said, having a "clickable prototype" is something that would be great for the app.
Some prototypes are:
Adobe XD
InVision
Proto.io
Adobe XD
The typical design costs in Mobile App Development are between $2,400-$10,500.
Application Development
The costs for programming and coding are pretty hefty. There are not a lot of people in a coding team. There are usually 2 to 3 members in a coding team. The costs during this phase range from $2,500 to $60,000.
Project Management
Project Management is a critical phase in the development process. The manager takes up about 10% of the total app budget. They control the development process from the start till the end.  The cost ranges from about $1,100 to $12,000.
App Testing & Deployment
This is also another very critical and important phase. You have to have testing protocols throughout the entire process.
Once you have built your app, you will need to test it again before launching it. Having an "In-depth" testing protocol will be good for the users as they will only face very minimal issues such as glitches or lagging. The usual cost for the App Testing & Deployment will be below $5,000.
Application Maintenance
Once you have developed and released your app on the App Store or Google Play, you will still have some expenses. "Why?" you may ask. Well, it is because you have to consider the cost of maintaining your Mobile App. Your users should have the freedom and availability of downloading it and using it as many times as they want.
You should have a Maintenance plan to keep you updated.
Some Application Maintenance includes:
Fixing Bugs
Improving the stability of the app
Code Optimization
Updating App to Latest OS versions
The typical cost for this is about 10-20% of the development cost.
You can't expect to have a fantastic app with just a few dollars or even with a couple of hundreds of dollars. Moreover, spending thousands of dollars on app development does not mean that it will be successful.
So, how do you estimate the cost of developing a mobile app? In this article, we will be discussing the different factors you need to consider while estimating the mobile app development cost.
According to some surveys, the average cost of building a mobile app often ranges from $100,000 to $500,000, sometimes more. A feature-rich and fully custom mobile app can cost more than $500,000. It could also be as little as $1,000 as well, depending on what kind of features and how much detail will go into developing the app.
It takes experience and specific skills in order to build a successful Mobile Application. It is a long process with incredible detail that can be fulfilled. The digital industry is taking over the world and it is time to evolve.
In order to evolve and boost your business through mobile apps, you will need a very experienced technology and Mobile App Development partner to make your digital Ideas come to life.
We, at Lemosys, are a distinguished Mobile App Development as well as Web Designing Company that serves Global Clients. We have helped many businesses from start-ups to now flourish with our innovative Mobile Application solutions.
You can also check the cost of web development.
For more information Contact Us on our Website: https://www.lemosys.com