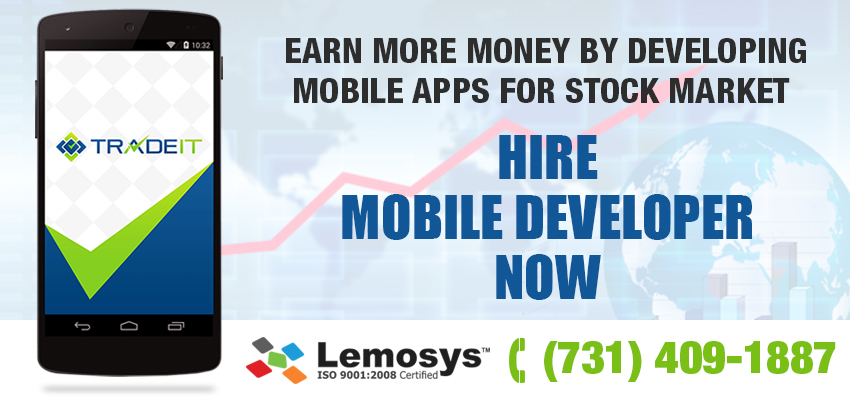 Why You Should Develop Mobile Application Like Tradeit For Stock Market
Why You Should Develop Mobile Application Like Tradeit For Stock Market
https://www.lemosys.com/blog/wp-content/uploads/2017/08/Build-Top-Mobile-Application-Like-Tradeit-to-Increase-Your-Sell.jpg
850
400
Blog
Blog
https://www.lemosys.com/blog/wp-content/uploads/2017/08/Build-Top-Mobile-Application-Like-Tradeit-to-Increase-Your-Sell.jpg
rading can be rewarding and making more money if done the right way. Though, it involves ups and downs of the market, but it the first-rate alternative for creation of long term wealth. If you are one of the avid stock market players, then it is very important for you to stay updated about each and every activity of the market and advisory firms.
A few decades ago, the trading Work is not very simple, it is a large process to take follow-ups from the clients and generate leads for it. As time passes, innovation and advancements comes in technology that brings the idea of developing user-friendly web and mobile application for trading purpose. You also know that now almost every consumer is shifted to mobile platforms and it is the right decision to use mobile applications as new tools to gain insight and what not.
There are lots of mobile applications that have developed now with the purpose to be familiar with about the techniques of trading. Tradeit is one such stock advisory and trading application that gives you certain tips to get more and more customers invest to your business, and you get financial rewards. Accessing Tradeit application, you would receive notifications of any activity in the stock market and advisory firms that ease your trading work.
Below are the surprising features of  TradeIT application, which one is really useful for Stock Market Business
These apps are very flexible as you can utilize any segment including cash, future, options and commodity-MCX too. This application allows you multitask and manage multiple accounts simultaneously without the need to pay separately for multiple services.
With mobile share trading application, you can get real time updates for all types of open and closed calls. You can even create multiple watch lists if you want to track global markets and know about important news.
The services available at TradeIT are accessible for 6 months from the day you deposit money to its account. Safe multiple payment options are available to add cash to TradeIT account, such as credit cards, debit cards and net banking too.
Here are a few benefits of using application like TradeIT. This includes:
This application is incredibly easy and gives good experience to you by crediting a few 300Rs. to your account when you download this application for the first time.
This is fully secure, authentic and transparent application that charges you on the basis of advisory calls of your preference.
The option of refund is also there in such type of mobile application if in case it fall short when giving you advisory guidelines.
To get benefited with all the above discussed points, you need to download the application for your mobile devices and register your mobile number along with the promo code details to use its functionalities. Above and beyond, TradeIT provides you with most of the trading facilities that help to take risk and make informed decision.
If you have own business related to Advisory firm don't late to build online application. Using online applications, the way stock market is running and working is greatly revolutionized.
Some business advantages of developing online application
Online application helps you complete trading and investing through a few clicks.
Call of Action- You can easily get immediate response on your services.
Improve Customer Engagement- Easily can interact and Engagement customer. And Earn more money with the help of online
Build Brand – Greatly contribute to your brand awareness on Internet.
We are available here to boost your business by developing such applications at truly unbeatable prices. Likewise, you can also develop these types of mobile applications for your desired mobile platform, such as Android and iOS application developer by hiring Lemosys Infotech. Lemosys Infotech is a leading IT group of professionals that are well-versed in developing mobile applications for you. The best thing about our company is that we complete the task of application development on assured deadline.
  Contact us today at +91-731-409-1887 for any business queries.