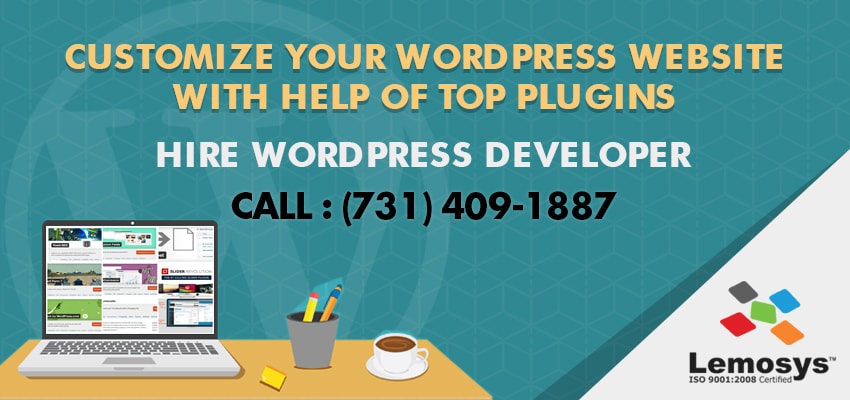 Develop Customized Website Application by Using WordPress Plugins
Develop Customized Website Application by Using WordPress Plugins
https://www.lemosys.com/blog/wp-content/uploads/2017/09/Popular-WordPress-Plug-ins.jpg
850
400
Blog
Blog
https://www.lemosys.com/blog/wp-content/uploads/2017/09/Popular-WordPress-Plug-ins.jpg
[responsivevoice_button rate="0.9″ pitch="1.2″ volume="0.8″ voice="US English Male" buttontext="Listen to this article now"]
If you are new to the concept of website development, WordPress gives you accessibility to easy CMS development options. Based on the PHP language and MySQL database, WordPress is integrated with many layouts and themes for superior website development. WordPress also comes with the wider options and support of WordPress Plugins that make it one of the most appropriate tools for better website development with extended functionality. You can easily develop websites with the help of these word press plugins if you have lack knowledge and skills in coding as well as programming.
Oftentimes, beginner users might think that what are WordPress plugins? How do they work and help in making a fully functional website? WordPress plugins are an important portion of WordPress to build websites using WordPress. These plugins are nothing but application software that lets you add the newest features to the website that you want to build.
Here are the 5 popular essential plugins for WordPress that you can use for interactive web development-
1. Unique Header Plug-in
If you want to add a custom header image box for posting on the edit screen, then Unique Header Plug-in is the best plug-in to ease your work. Such plugins are used to upload a unique header image for the post or can browse the image from the media library. Only you need to make use of a theme that has built-in WordPress custom header functionality.
2.  WP- File Manager
The WordPress plug-in namely "File Manager" provides you with the exceptional features to edit, copy, delete, upload, download the files and folders. You can copy the files and move the folder from one location to another location. It is featured with drag and drop file upload support, alternative to FTP, video and audio preview, archives create and extract in any form including zipping, Tar, Rar, Gzip, and 7Z too. This provides a high-performance server backend without the need for a database as it uses the local file system.
3.  Slider WD
Adding a responsive slider to your websites for sliding videos, images, and much more becomes possible due to Slider WD. You can add this plug-in as both widget and plug-in to display slider within the theme by using functions of PHP. It also has various transition effects and layers of support, which enhances its functionality. For each slider, one can use a number of slides, and eve, various layers are also be applied for each of the responsive slides. Its unique features include responsiveness, full-width slider support, transition effects for sliders. Also, it is possible to change the design for navigation buttons and bullets.
4.  CSS Hero
CSS Hero is one of the premium WordPress plugins enabling easy customization of elements, features, and properties. Using CSS Hero plug-in, one more layer of customization is added above to your theme customize giving you the freedom to twist the look and feel of your theme in accordance with your requirements. This even helps you to code your website if you are not aware of the HTML and CSS coding. And, it also works by allowing you to modify the elements of a website through a visual live editor. This editor will simply display on the front end of the site.
5.  Photo Gallery by WD
You can create fully add or edit the images for different views using Photo Gallery by WD in a few minutes. It also includes different add-ons that enhance the functionality of your websites. It lets you upload a number of pictures and create a number of photo albums you require. With this, you can add image galleries, albums to pages, and multiple widgets too. You are also free to add videos as it comes with audio and video support allowing you to create a YouTube gallery with ease. This type of plugin involves chances to provide description for images and thumbnail editing tools, audio track playback possibility with the slide show of images.
Well, the knowledge regarding the popular Word press plugin mentioned in the above paragraphs is good enough to develop interactive websites. If in case, you face any kind of problems while installing the plugin or customizing the website functionality, you can seek assistance from expert WordPress developers of Lemosys Infotech.