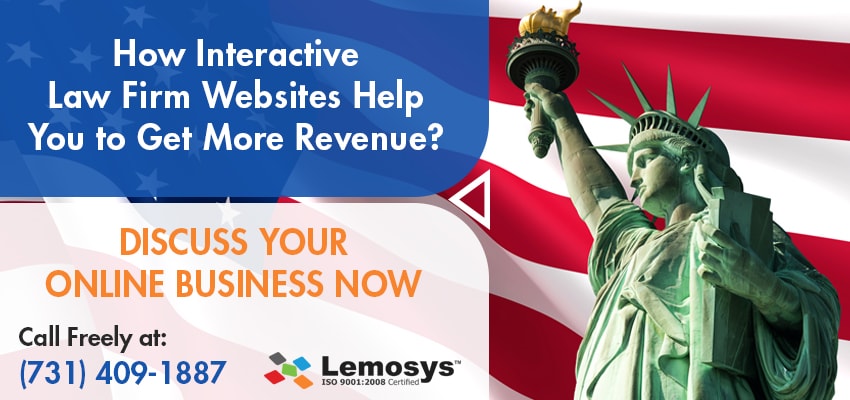 Why You Should Have An Appealing Website Design Representing Your Law Firm
Why You Should Have An Appealing Website Design Representing Your Law Firm
https://www.lemosys.com/blog/wp-content/uploads/2017/09/How-interactive-Law-Firm-websites-Help-you-to-Get-More-Revenue.jpg
850
400
Blog
Blog
https://www.lemosys.com/blog/wp-content/uploads/2017/09/How-interactive-Law-Firm-websites-Help-you-to-Get-More-Revenue.jpg
Gone are the days when people used to open telephone directories to find the best legal assistance for solving any legal issue. The legal assistance is now considered to be the best that have visually appealing and stunning website heading their law firm. You may even ask a local person who would tell you about his thinking and approach to hiring the best law firm. This is so because some of the experienced attorneys fail to understand what the value a good legal website design holds to get a number of legal cases. Besides, the website of your law firm is the very first impression that you make on your clients. If any of the law firms not making the impression on their clients who find your website online, then it is sure that you would lose a number of cases to your competitor making the impression on customers through their appealing websites.
Here are some of the interactive websites for renowned law firms made by Lemosys Infotech.
Gray Broughton is a legal firm providing top injury law services. Their goal is to maximize your recovery thereby providing the services for car accidents, truck accidents, traumatic brain injury, and wrongful death too. Today, this firm is well known for solving cases of personal injury. But, before some time, no one knows about this firm and their services when they don't have their own law website.
Technical Aspects- Their website is created using advanced CSS, HTML, and other technology platforms to give it an interactive look and easy to navigate.
Houston business attorneys are well known for protecting your rights and interests with the highest standards of professionalism and excellence in work. They spend their valuable time with their clients for understanding their actual need for legal issues. If any of the clients go through their websites, they know clearly about their attorney profiles, working strategy, and other testimonials.
Technical Aspects- These types of websites contain a visual language for their legal brand in terms of several contexts such as logo, design, and color combination.
Handling the legal matters of both domestic as well as international clients, My Visa Solutions provides the highest quality legal help for several companies and employers in Spanish and English language. Whether the customer is searching for consular visa processing, immigration services, translation services, or financial documentation for visas, document translation services, and business plan drafting too, this is a one-stop organization for catering to the entire needs of the law firm.
Technical Aspects- Such websites are compatible with mobile and this one is a user-friendly website, an online user easily handles their services and consults with professionals.
Envision, you have developed and designed a website for your legal organization, but do you think that it is enough to just have a website representing your legal practice? It is not enough to only have a law website design; rather it should be an interactive and responsive one that is suitable for all types of screen resolutions. In addition to this, a website is great if it gives accurate information a client is looking for. This may help you generate leads and new customers for your legal association.
On the whole, the website should have certain pages such as attorney profile, practice areas, case results, contact us, referrals, and even, a FAQ page to build visitors' trust and credibility in your law group. It is the right choice to refer any experienced web developer and web designer like Lemosys Infotech for the best website development and website design respectively for your law firm.