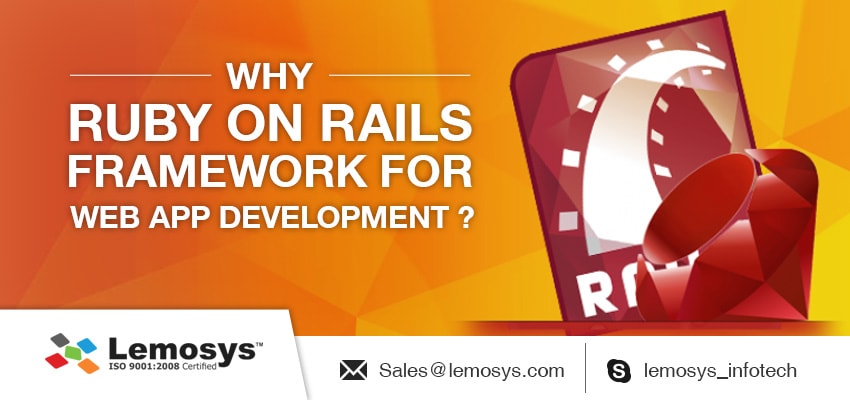 20 Reasons Why Ruby On Rails is the best choice for Website Development
20 Reasons Why Ruby On Rails is the best choice for Website Development
https://www.lemosys.com/blog/wp-content/uploads/2018/08/Ruby-on-Rails-for-Website-Development.jpg
850
400
Blog
Blog
https://www.lemosys.com/blog/wp-content/uploads/2018/08/Ruby-on-Rails-for-Website-Development.jpg
Ruby on Rails is considered as the best in the galaxy of programming languages for website development and 2, 186, 995 websites are developed approximately in this framework till the end of 2017. ROR is a multilevel model-view-controller framework for developing website applications.
20 Benefits of ROR for Web Development are as Under-
Open Source for Web Apps- Rails is open source software that helps developers to read underlying code for better app customization.
Scalability- Ruby on Rails has many open-source plugins for implementing popular functions, known as gems to perform internal application work.
Highly Reliable Development- The functionality of this ruby on rails framework is performed by automatic tests. It makes the web development solutions very reliable.
Eases the Complex Coding- In Ruby on Rails, complex business logic can be implemented easily using the standard coding techniques.
Less Expensive Platform- It is just a myth that ROR developers are very few and in turn, makes the web development process expensive.
Robust Community to Help Developers- Ruby on Rails has made a robust community to assist developers in developing and working on complex websites.
Libraries and Components- With the help of available libraries and components, the development in ROR can be accelerated to a great extent.
Great Development Speed- The web development projects based on ROR can be built faster as compared to other programming languages and frameworks.
In-built Testing Environment- It allows developers to test the application on any stage of development process. This reduces the hassle to get quality and expected outcome.
Support Cloud Environment- Ruby on Rails applications are developed and deployed without any issues. These applications can also work on clouds or in server cluster.
Accompanying Business Solutions- The components of this framework are extremely useful. It makes the web application highly stable to enhance business efficacy.
Text Files for Easy Development- The availability of text based files for development makes beneficial for a developer to edit, update, move or deploy the file.
Tools for Application Customization- This software is integrated with tools that helps in customizing applications. It can tweak the project code and improve the app by adding new features.
Perfect for Web Technology- The feasibility of web development project is easier in Ruby on Rails. As in, the complete direction of development is fixed in initial stages.
Amazing Security Features- Ruby on Rails is secure. The security features are in-built and enabled by default. This allows developers to work in a secure development life cycle.
Easy Code Maintenance- Ruby on Rails is well known for the predictability and stability in code. This is invaluable for new businesses as well as large scale businesses.
Documentation Availability- There are documentation and resources both available for Ruby on Rails development. This will help to know about ROR classes, frameworks and methods.
Do not Repeat- This framework is developed with the mechanism of code reusability. It helps to reduce the duplication in coding of a specific website.
Convention Agreement- It comes with the plenty of configuration agreements to simplify the creation of website application in standardized manner.
Affordable Template Solution – It is one such development framework that allows website apps to break free from the highly standard template solutions. These solutions are affordable and can't cripple bottom line.
However, the entry level in ROR for web development is quite high, it needs to hire expert Ruby on Rails developers to render such IT services. Think of Lemosys Infotech.
Lemosys Infotech is a trusted web development company in India offering IT services by an expert such as Ruby on Rails web development services. They have relevant experience of years to assist their clients and turn their business idea into a technology-driven solution.