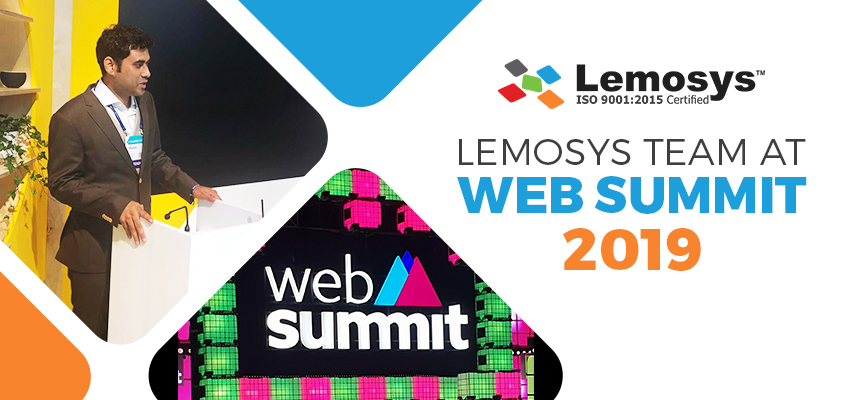 Lemosys Infotech at Web Summit 2019
Lemosys Infotech at Web Summit 2019
https://www.lemosys.com/blog/wp-content/uploads/2019/11/lemosys-web-summit-banner.jpg
850
400
Blog
Blog
https://www.lemosys.com/blog/wp-content/uploads/2019/11/lemosys-web-summit-banner.jpg
Lemosys CEO & Team attended Web Summit 2019 in Lisbon, Portugal from 4th to 8th of November 2019 to gain more knowledge about artificial intelligence and every day changing digital trends Web Summit, which is the largest tech conference in the world with more than 70,000 attendees, 1,200+ speakers from 170 countries all ready to network and to do business on a global scale.
Web Summit 2019 brings together thousands of CEOs, investors and startup entrepreneurs every year, it's a place where people meet up, explore partnerships, raise brand profiles, and start conversations that are going to shape the future of technology.
This year the event featured high profile speakers from leading global tech companies such as CEO of Huawei, President of Microsoft Corporation, Google Sustainability Officer, and Amazon CTO, Werner Vogels among many others. The future is digital, and it is imperative for any company that wants to disrupt traditional industries and incumbent providers through the creative use of technology. It was great to be surrounded by so many people from across the world who share the same view, passion, and want to create a world where tech is used for good.
Our CEO got a chance to address new startups and he shared his ideas and suggestion to many young entrepreneurs. The team also got a chance to interact with enthusiastic people from many other countries.
Web Summit 2019 is regarded to be one of the best technology conferences on the planet and is an event where ideas are born and fostered by tech industry leaders. We are looking forward to using the new insights gained at Web Summit 2019 to further enhance our proposition and explore additional avenues through new partnerships.
We continue to keep our heads down and work hard behind the scenes to move LEMOSYS INFOTECH towards the most successful and technology-friendly IT company.
Lemosys Infotech Pvt. Ltd is an ISO certified company providing the services of web development (CMS and framework), web designing and mobile applications (iOS and Android) at rock bottom prices. As a leading software development company in India & USA, we attend several events (India Soft 2019) throughout the year and always try to achieve or gain knowledge of the current scenario so, through our experience, We can help you with all your software-related quires & questions you have while working on projects.
Here are some of the services we offer to our clients!
Services
Products