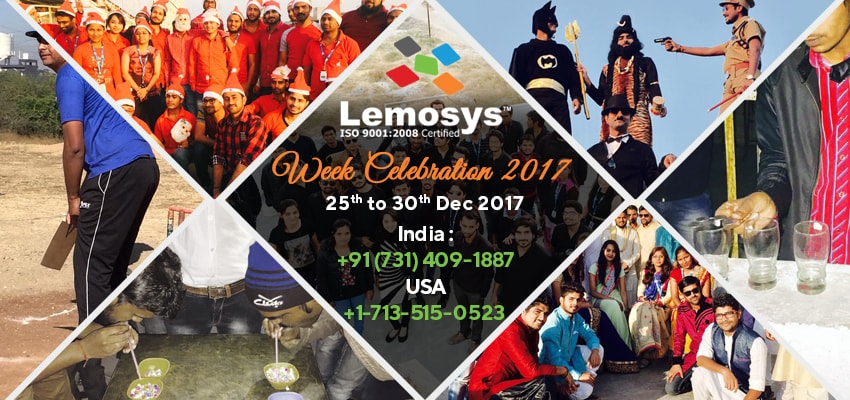 Lemosys Week 2017 – Great Fun and Celebration
Lemosys Week 2017 – Great Fun and Celebration
https://www.lemosys.com/blog/wp-content/uploads/2017/12/Lemosys-Week-2017.jpg
850
400
Blog
Blog
https://www.lemosys.com/blog/wp-content/uploads/2017/12/Lemosys-Week-2017.jpg
What is Lemosys Week?
The Lemosys Week is full of thrills and exciting games for our whole team. Lemosys, in fact, tries to bring passion, excitement and satisfaction in his team through different ways of unlimited fun and gaming activities all through this week. Our team gets a chance to enjoy to the fullest and develops all positive vibes for the coming happy days.
Lemosys Week 2017– Every year Lemosys Infotech celebrates a Lemosys Week to have fun at the end and celebrate the cold days at work. The company prepares a complete plan of this amazing end of the year week in advance so as to make it pleasurable than ever before. We, in fact, have a good habit to develop morale at our workplace, which is nothing but a weekend break for fun to increase happiness and perk-up success among our teammates.  Following the similar fun fiesta, Lemosys is going to have a week-long enjoyment as Lemosys Week 2017 this year too.
What Our Team will be Going to Do in Lemosys Week 2017?
After all tiring work of the year, Lemosys is all set to have a get together celebrate holidays for the appreciation of its highly-dedicated team from 25th Dec 2017 till 30th Dec 2017 this year. The fun for the complete week will start with an incredible Christmas celebration headed with cake cutting and much more entertainment. And, after that we continue our celebration with a lot of entertaining and gaming activities to re-energize and motivate for the upcoming days and year.
What Gaming activities Lemosys Do Within This Week?
With a believe that playing games is a favorite way of brain to learn something new, we plan different games incorporating one game per day to boost controlled competitiveness and peer positivity among all of us. Our game plan comprises of musical chair race, straw and thermocol ball game, bangle cup game, tambola and also, Cricket- a fully dynamic, challenging, exciting and one of the fun sports.
Really, having a true belief on continuing cycle of the nature that is common throughout the history and cultures, we would like to celebrate the December- last month of the present year, especially the lighter days- last weekend of the present year. For the most part, Lemosys definitely rocks and celebrates the ending days of the present year in a unique way and of course, give a fresh welcome to the coming New Year.
Today, social media is a great way to explore the activities done by people on daily basis. So, follow us and get in touch with the regular activities of Lemosys Week 2017 on our social networking site-