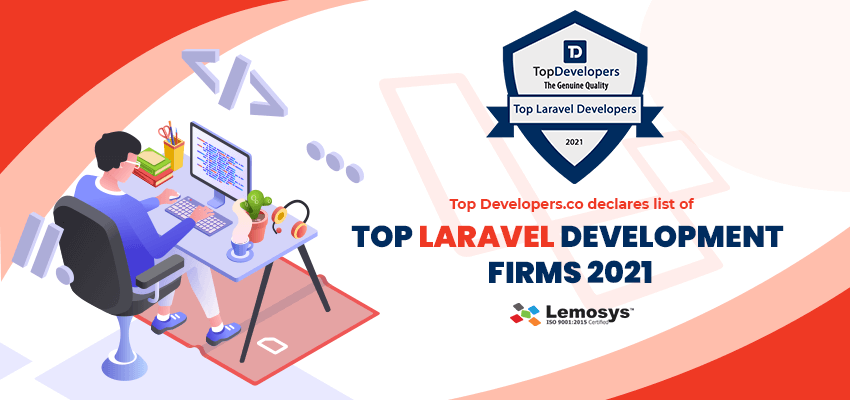 TopDevelopers.co Declares Lemosys Infotech Pvt. Leading Laravel Development Company of January 2021
TopDevelopers.co Declares Lemosys Infotech Pvt. Leading Laravel Development Company of January 2021
https://www.lemosys.com/blog/wp-content/uploads/2021/04/Lemosys-Leading-Laravel-Development-Company-In-Jan-2021.png
850
400
Blog
Blog
https://www.lemosys.com/blog/wp-content/uploads/2021/04/Lemosys-Leading-Laravel-Development-Company-In-Jan-2021.png
Consistency and smart work reap rich results and help you succeed for a longer duration. At Lemosys Infotech, we understand the importance of going with the trends and understanding the market requirement before going forward with the development. Our efforts and results in Laravel development have brought laurels for us and this is the reason why in a press release about the leading Laravel Development Companies, TopDevelopers.co has included us in the list of January 2021.
Lemosys Infotech Pvt Ltd is a well-known organization when it comes to web development and designing. Apart from web designing and development, we are the front-runners in digital marketing, software testing, mobile app development, and many more. We have a pool of talented software developers and designers who are skilled and proficient in delivering web and software development services across India. This is the reason why we are noted as one of the top leading web development service providers.
Since our inception in the year 2007, we have made sure to excel in rendering top-quality services in the new and upcoming technologies. Our work ethic and hard work helped us made our name among the top Laravel development service providers across the globe and have been rated high in the tough quality procedure of TopDevelopers.co as well.
In the past 14 years, we have rendered our services in web and software development, UI/UX designing, eCommerce development, and many more.
The majority of our clients are from the IT sector and the advertising & the marketing sector and our astute solutions help them to expand their business and also retain their user base for a longer duration of time. Our portfolio is the right place where you can learn more about our client requirements and how we tackled every complex necessity prudently.
You can visit Lemosys Infotech's profile on TopDevelopers.co in order to understand what our clients have to say about the experience they had while working with us, our focus areas, service specialties, and other similar key aspects.
Who is TopDevelopers.co?
TopDevelopers.co is a widely respected directory and review platform of IT, service providers. They take a neutral approach in analyzing the companies. The team of analysts at TopDevelopers.co the companies through stringent parameters which ensure that only the most competitive firms, businesses, enterprises, and entrepreneurs are filtered through their process. This helps the service seekers in getting ready to use a pool of companies from which they can choose the appropriate firm according to their needs.