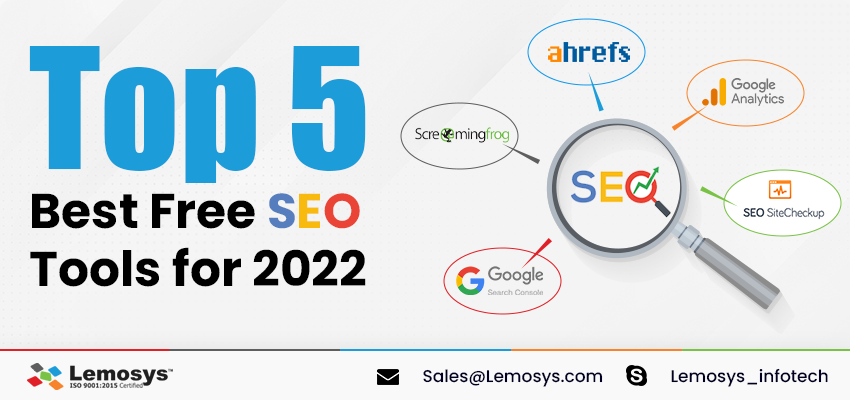 Top 5 Best Free SEO Tools In 2022
Top 5 Best Free SEO Tools In 2022
https://www.lemosys.com/blog/wp-content/uploads/2022/03/SEO-TOOL.png
850
400
Blog
Blog
https://www.lemosys.com/blog/wp-content/uploads/2022/03/SEO-TOOL.png
SEO optimization can be challenging. There are a lot of available top 5 free SEO tools, but most of them leave you more lost and confused than leading you to the right path. Luckily, we've curated the most important ones to help you achieve your marketing strategy and bolster your SEO performance.
Ahrefs
Google Analytics
Google Search Console
SEO Site Checkup
Screaming Frog
Ahrefs is an SEO toolkit with all the core functionalities you would typically need to cover all the bases in managing a website's search performance. Many SEO experts love using Ahrefs because of its convenience. With an "all-in-one SEO toolset," Ahrefs will have everything you need from website optimization, competitor tracking and analysis, studying customer searches, analyzing an industry's top-performing content, and of course, tracking your ranking progress.
As the Head of Marketing of free SEO tools, Soulo is lucky, in the sense, that he gets to use his tool to do keyword research. Therefore, it is fairly obvious the first method he uses to do keyword research is his own Ahrefs Keyword Explorer. Overall, Ahrefs is one of the most recommended free SEO tools by most SEO experts and professionals.
 Google Analytics can help in finding out how visitors locate your website, identify which of your pages and links are clicked by your visitors the most, provide visitor segmentation, and help fine-tune your website. Google Analytics is a tool provided by Google that tracks useful data about how people find and interact with websites and packages it into a format that makes it easy for website owners to understand.
We keep referencing all the valuable insights you can get from Google Analytics, but what does that look like in practical terms? The data Google Analytics provides can answer some big questions every blogger has. The best thing about it? It's free.
Google Search Console is useful, especially for new websites as this tool allows website owners to submit web pages for indexing. In addition, Google Search Console allows you to monitor your website's presence in Google SERP. Google Search Console can also help you find and fix any structural or code-based problems your site may have. 
The main sections of the GSC interface are:
Search Appearance, which shows you how your site looks in search results.

Search Traffic, which shows how your site performs in search results.

Google Index, which gives you information on individual URLs within your site.

Crawl shows you exactly what search bots find when they crawl your site.

Generate a sitemap of your blog and submit it via the Google Search Console
SEO Site Checkup allows you to get useful information about the quality and quantity of backlinks pointing to your website, ordered by their importance. It also allows you to save your backlinks lists, export them in different formats and track your backlink's status over time.
Free SEO tools analyzing and monitoring that have everything an entrepreneur needs to uplift their business. The best part of this amazing tool is that it comes with a 14-day free trial. So, don't waste your time, and start using it now!
Screaming Frog is a tool used to crawl a website and identify its technical issues which, when resolved, can improve SEO. Even though it is a complex application, we would like to spotlight some features you can start using today. Screaming Frog has both a free and paid version.
Beware that the free version has a limit of 500 links to crawl while the paid version has an unlimited amount of links to crawl. When you download and open Screaming Frog, on the main navigation bar you can see the "Mode" menu. It has three items: Spider, List, and SERP.
SERP Mode


List Mode




Spider Mode