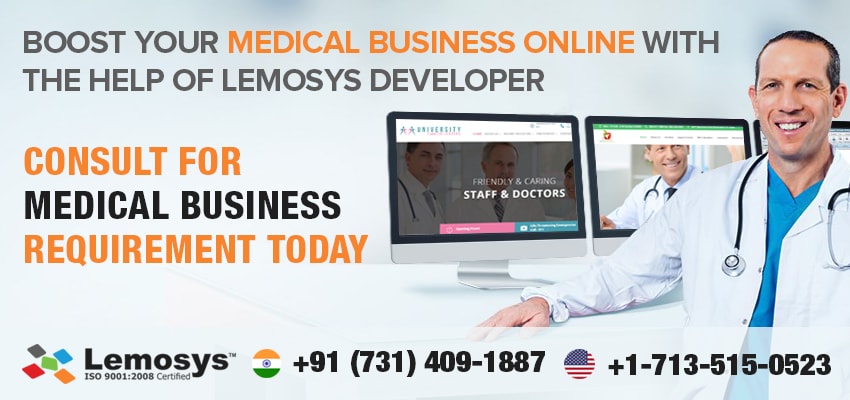 Top 5 Excellent Healthcare Web Applications Developed by Lemosys Infotech
Top 5 Excellent Healthcare Web Applications Developed by Lemosys Infotech
https://www.lemosys.com/blog/wp-content/uploads/2017/08/Hire-medical-developer-at-Lemosys.jpg
850
400
Blog
Blog
https://www.lemosys.com/blog/wp-content/uploads/2017/08/Hire-medical-developer-at-Lemosys.jpg
The interaction of doctor and patients are very important in the health industry. However, the technology is updating and developing with each passing day, which bridges the gap between the doctor and patients.
Today, more than a hundred Healthcare Web Application and mobile applications are created that helps patients to find the doctor in a few clicks. It's now become easy to appoint the best physician by checking reviews and ratings on websites. There are various health care experts contacted by IT experts for developing websites and reliable health-related web applications. Lemosys Infotech is one such IT professional which is good at developing and designing tailored web-based applications according to users' requirements.
Here are the top 5 Healthcare Web Application based on WordPress CMS.
A brief description of them is given below:
Now a day, struggling with the irregularity in teeth and jaws has become a common problem, and every patient quests for expert orthodontics to improve their life. There are various web applications that can be accessed to retrieve the particular information, but not as perfect as the health-based web application "Smiles by Lyles". This web application is one stop customized solution for you if you want to schedule a consultation with a renowned Orthodontist and his experienced team in Houston.
With Bellaire ER, the health condition of the patient can easily be monitored and you will get quick test results. Getting elevated medical capabilities and EMS ambulatory access is added benefit of using this web application. The design part of this website is so interactive that can assist patients to retrieve details without difficulty.
University Care Centers is a reliable website providing useful information on cancer treatments for adults and children without any hassle. This ease the work of patients to schedule appointment, get a treatment guide and connect with you. Truly, if any healthcare center has this health-related web application, then they can earn a good amount of income by scheduling and referring your physicians simply.
Using the UP4 Nutrition website, getting guided meal plans, grocery lists, body fat analysis, and counseling becomes possible without much effort. This application even helps you in giving information to manage chronic diseases, such as high blood pressure or cholesterol. Hence, it is the right decision if you are thinking to have the same application for your business.
Most people struggle with what to eat whatnot. Truly, they wish to make a change but are not able to do it. These types of situations are overcome by accessing the website application Delphine Remy. This can help you transform your body and soul. It is suggested that you should have such websites if you have your own consulting room suggesting people regarding better health. As in, this reduces your work to make people understand the value of improved health.
On the whole, these 5 healthcare web applications would surely reduce your work of finding the best medical practitioner and easing patients to reach you online anytime anywhere. So, if you need to have a similar web application created in reliable frameworks and CMS for your healthcare center, then you should seek Lemosys Infotech which has a highly experienced team of developers and designers who develops such web applications at nominal rates and deliver projects on set deadline with quality.
Contact at +91-731-409-1887 to develop user-friendly and customized WordPress applications services at Lemosys Infotech.