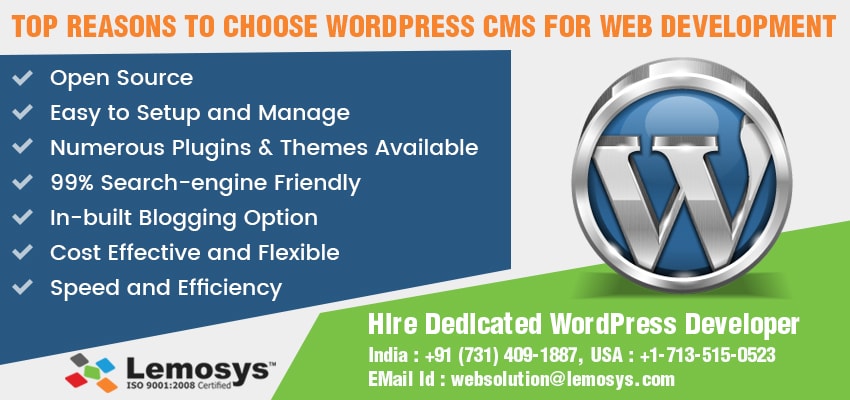 Why Choose WordPress CMS To Develop New Business Website?
Why Choose WordPress CMS To Develop New Business Website?
https://www.lemosys.com/blog/wp-content/uploads/2018/04/WordPress-CMS-for-Development.jpg
850
400
Blog
Blog
https://www.lemosys.com/blog/wp-content/uploads/2018/04/WordPress-CMS-for-Development.jpg
[responsivevoice_button rate="0.9″ pitch="1.2″ volume="0.8″ voice="US English Male" buttontext="Listen to this article now"]
Need a new business website but don't have the big bucks to make it happen? WordPress is the distinctive solution to develop a professional website for any growing business. And, the latest research on WordPress is also done and the statistics show that WordPress is the only CMS receiving approximately 400K+ match searches on the Internet.
Initially launched in the year 2003, WordPress provides users with a lot of features and flexibility options that can assist a dedicated web developer to take the business-oriented website from ordinary to extraordinary. Here, you can have a glance at a few such qualities of WordPress and choose WordPress for developing a new business website.
WordPress CMS is open-source and available for free. It is 99.99% beneficial to launch a new online business without the need to worry about charges.
One of the great possibilities in WordPress is multi-user capability, which means that a business can rely on several people to keep their site up and running.
WordPress establishes its own giant and active community for users to provide the exchange of ideas, support, and a better way to connect on its official forums across the globe.
WordPress is easy to customize. Somewhat 600K WordPress development team can customize this top-rated CMS as per the client's requirement.
Give an additional boost to the leading business as WordPress enables the integration with different platforms.
WordPress has numerous professionally designed themes and popular plugins that are available for free; a web designer designs a professional and featured website without considering paying high costs.
Another attractive feature is plenty of e-commerce solutions available in WordPress that can convert your business website into a fully-fledged digital store.
Meeting the demands of multiple users, allows website designers and developers to create attractive website layouts with flexibility.
WordPress is a trusted key and all-set to design responsive sites with the help of WordPress themes. Hence, it is all set for the mobile web.
The great thing about this CMS is 99% search-engine friendly, which means it can automatically solve most of the issues of search engine optimization.
WordPress website's setting up and managing is a step-by-step procedure. You simply need a reliable Internet connection and a web browser for creating a website.
WordPress gives notifications when there is any update available. All you need is to have Internet connectivity to update the website. This lets users work on the latest version of the WordPress site.
WordPress takes the security of the users as the first important thing. It constantly updates the software to prevent malicious and hacker attacks.
WordPress is being utilized by more than 70% of the total websites publishing new posts and blogs every second. In fact, WordPress has an in-built blogging option due to post and page structure.
WordPress is cost-efficient. No cost issues occur in WordPress website development. It lies within the budget constraints of both small and big businesses. Besides, it requires less maintenance cost.
Most of the clients are smart; they seek the best WordPress Development Company- Lemosys Infotech. Lemosys first thinks about the future of a specific business. Lemosys has over 8+ years of team experience in WordPress development and 120M happy clients worldwide. This WordPress development company in India has a dedicated team of WordPress developers who are experts in developing and designing website applications and WordPress-based blogs for both profit and non-profit organizations.